Match Highlights: Germany vs Spain — as it happened
Minute-by-minute commentary on the marquee match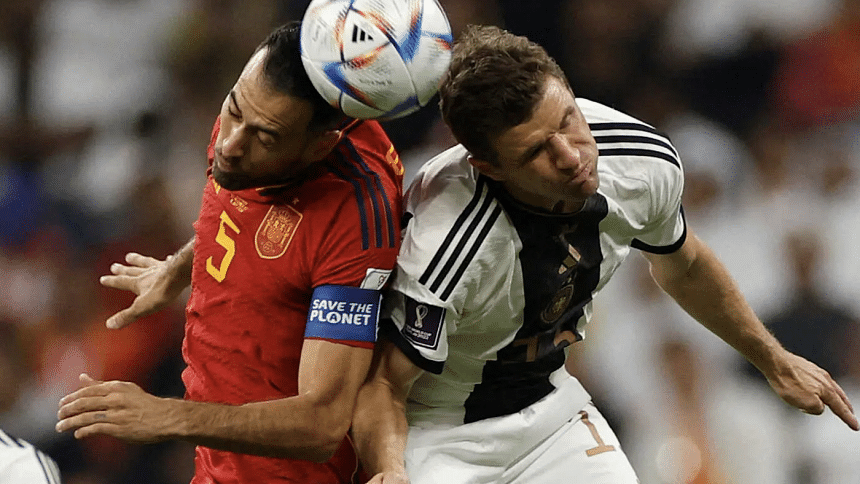 Heavyweights Germany and Spain threateningly pulled off a nail-biting draw — and the most entertaining match of the World Cup yet. 
What this means: Spain is on top of the group with 7 points, and Germany sits at the bottom. But thanks to Costa Rica, Germany won't be out. They'll need a win against Costa Rica or it's all over. Their hopes also depend on Japan losing to Spain. It's tricky. It's exciting. 
3 minutes remaining: A corner for Germany. No good. Germany makes a final last attempt but Goretzka runs too far ahead. A great catch from Spain's Simon in the closing seconds, ends the match an equalizer. Draws don't seem exciting but damn, this match, was the most exciting of the World Cup yet. 
90:00 mins: Both teams are threateningly aiming to change the score. Busquets perfectly placed to block Germany's attack. The ball comes back to Spain's end. A free-kick for Germany. Hard to keep a control of what's happening: it's moving faaast. 
82:00 mins: GOAL! It's 1-1. Germany desperately hunts back into the game. It's Fullkrug with a quick, tight-angled shot. 
73:25 mins: A lot of pressure from Germany, they're getting pretty close. Sane cuts in from the right, the ball goes to Fullkrug who batters to the left side and takes a shot. Great goal-keeping from Simon. 
71:11 mins: Hansi Flick makes a triple change. Gundogan, Muller and Kehrer make way for Sane, Klostermann and Fullkrug. He's still choosing to not play Havertz — a risky decision? 
62:42 mins: GOAL! Morata comes in with a fantastic, slick goal. Trouble brewing for Germany.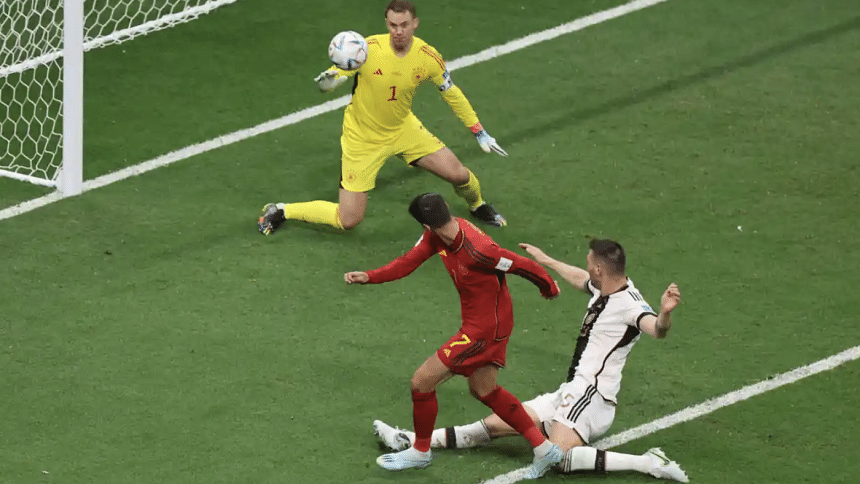 60:00 mins: Frustration for Hansi Flick. A poor free-kick. 
54:00 mins: Almost ten minutes into the second half, Spain seems to playing like a circus. The ball keeps flying off everywhere. Busquets struggles, can't seem to intercept. Torres is subbed, Morata replaces him. Dani Olmo aims the inside-left channel, but all chances cut short quickly by Kehrer. 
47:00 mins: Thomas Muller gives a good start. 
Half-time: It's a pretty exciting game, to be fair. The heavyweights are in attack mode tonight. It's anybody's game tonight, we're looking at a pretty exciting second half.
45:00 mins: Gavi wins a corner. Nothing comes out of it. Pretty eventful first-half. 
40:00 mins: RUDIGER SCORES! Oh, it's off-side. The stadium quickly switches from German celebrations to the Spanish chanting. 
35:00 mins: Dani Olmo makes another run denied by Sule. Torres takes a chance but fine defending from Musiala. Germany's seemingly playing defense right now. First yellow card of the match goes to Kehrer. Germany's looking sharp. 
30:00 mins: Germany struggles to gain control. Rudiger takes an ambitious attempt that flies over the bar. 
20:00 mins: Spain have enjoyed 64 percent of possession so far, and Germany's at 21 percent. Spain's pace is the dominating energy. Pedri makes a fine run, and Gnabry tries to reclaim possession for Germany. 
07:00 mins: The ball travels from Pedri to Gavi to Dani Olmo. Pretty close call for Spain!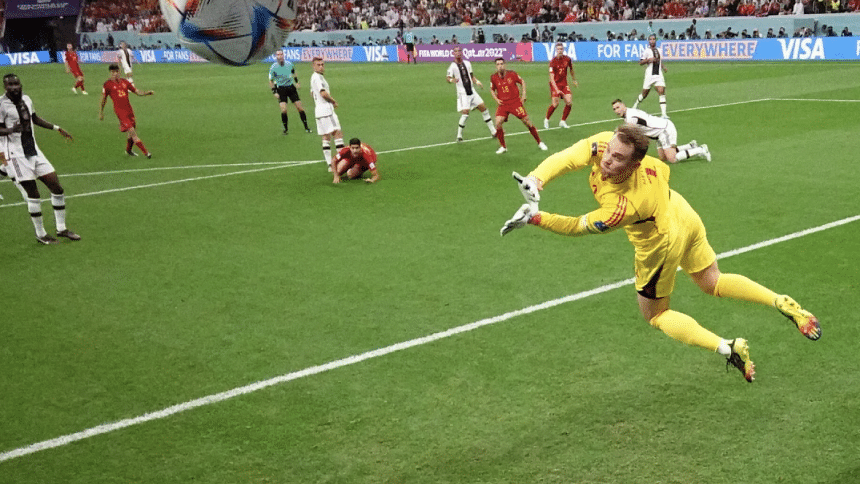 0:00 mins: The teams get off to a hectic start. Germany is off with a conservative line-up, without Leroy Sané and striker Kai Havertz. 
The stakes: If Germany (FIFA ranking #11) loses today, their chances of qualifying will be looking ultra-ultra-slim. Germany lost to Japan in a shocking 2-1 defeat. But things could not have gone any better for 2010 champions Spain (FIFA ranking #8), who demolished Costa Rica 7-0 to record their biggest World Cup victory. 
Line-ups: 
Starting Spain XI: Simon; Carvajal, Rodri, Laporte, Alba; Busquets, Gavi, Pedri; Asensio, Olmo, Torres 
Starting Germany XI: Neuer; Sule, Rudiger, Kehrer, Raum; Kimmich, Goretzka, Gundogan; Musiala, Muller. Gnabry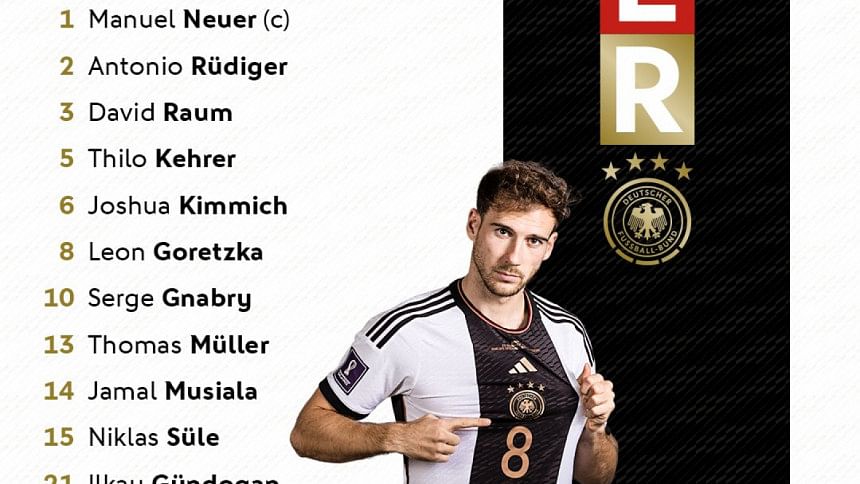 History:
The last time the teams met, a year ago in the Nations League, Spain won 6-0. 
Germany and Spain will face off for the fifth time in World Cup history. 
Germany haven't beaten the Spanish at a tournament since 1988. 
In 2008, Germany succumbed to Spain in Euros, and then in semi-finals in the World Cup 2010. 
Pre-match talks: 
Germany's Manager Hansi Flick handled press alone today. "If we are not on 100% then we give the opponent space. We did it against Japan. Such a defeat and how it came about is very bitter because it was avoidable," he said. "We have courage and belief going into the game," he added. Flick also had good words to say for Spain: "the quality that Gavi and Pedri have at a young age is fantastic."