Ruthless Abahani rout Victoria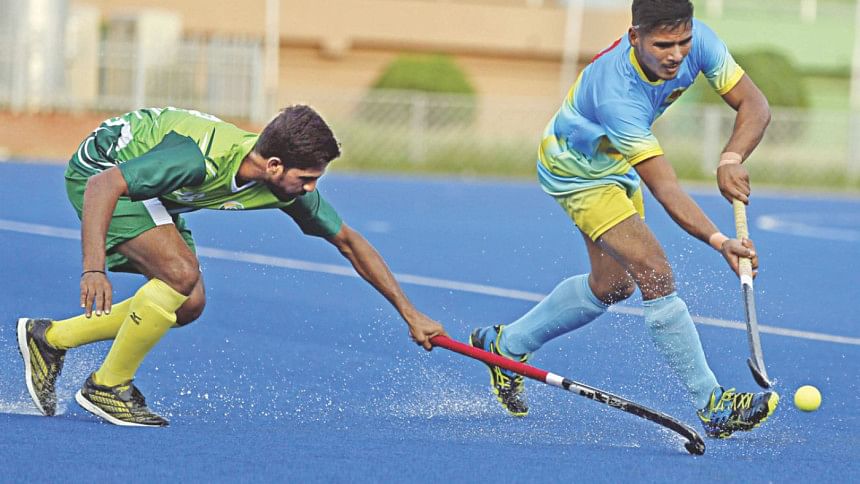 Club Cup champions Abahani continued their rampage in the Green Delta Insurance Premier Division Hockey League by thumping Victoria SC 8-0 at the Maulana Bhasani Hockey Stadium yesterday.
The Sky Blues came into the match on the back of a massive 10-0 win over Bangladesh Police and though they thrashed Victoria SC 11-1 in the Club Cup Tournament, faced some stiff competition this time until Mohammad Mohsin, who joined Abahani after participating in the Asian Youth Olympics Qualifiers, finally broke the deadlock with a nice reverse-hit in the 16th minute.
Once the impasse was breached, Abahani began the goalfest as Taher Ali struck twice within three minutes to make it 3-0 before Asharaful Islam converted a penalty to go into the break with a 4-0 lead.
Sarwar Hossain, Rumon Sarker and Musa Mia deftly controlled the midfield while Arshad Hossain and Mohsin tore apart Victoria SC's backline, which featured one of two Indian players the team fielded, to add four more goals in the second half.
Krishna, Arshad, Sarwar and Mohsin struck in the 42nd, 50th, 66th and 68th minutes respectively to complete the rout which helped the Dhanmondi-based outfit remain on top of the 12-team table with six points from two outings.
"To be honest, there is shortage of quality players in the country and Abahani always formed a team to become champions with quality players. That is the reason behind the huge difference between the heavyweights and the lightweights in the league," Abahani coach Mahbub Harun said after the match.
"I am happy with the organized way the boys played. The Abahani's performance will get better as the league progresses though we are going through a very hectic schedule. If we can continue such performances, no team can stop Abahani I believe," the veteran coach continued.
Harun added that his squad will only get stronger when their Malaysian recruits join after May 10.
In the day's other matches, Sonali Bank posted their second successive victory by handing a 3-1 defeat to Sadharan Bima, despite conceding the lead in the seventh minute. Sonali Bank hit back strong in the 24th minute through Promod Dewan while Rajib Das and Proshenjit Roy scored in the second half to ensure the win, which follows a 3-2 triumph over Wari Club in their league opener. Bangladesh SC beat Azad SC 2-1.