Sponsor U-19 cricketers' education: Gonoforum MP to govt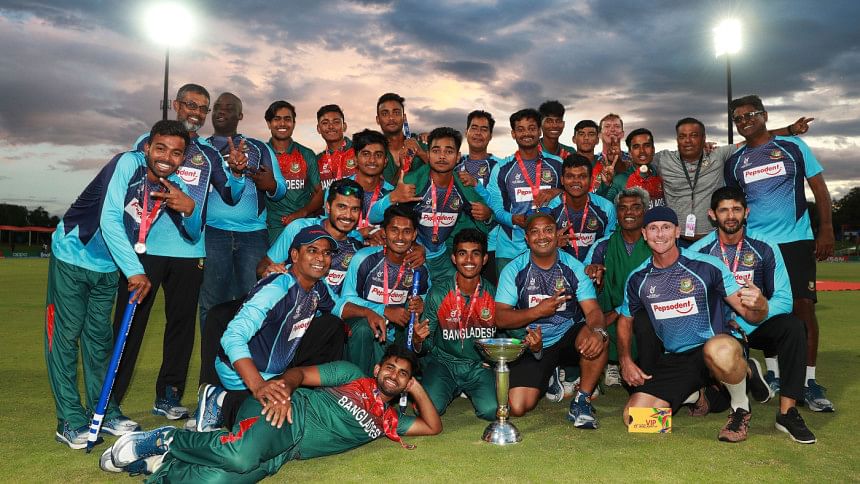 Gonoforum lawmaker Sultan Mohammad Mansur Ahmed today called upon the government to ensure state-funded education for the Under-19 Bangladesh Cricket Team players who won the title of ICC U-19 World Cup 2020 in South Africa yesterday.
"As long as they [cricketers of U-19 team] continue their studies, the state under the supervision of the Education Ministry and the Prime Minister should pay for all their educational expenses from the state fund," he demanded.
The MP came up with the demand at the parliament today during an unscheduled discussion.
Sultan Mohammad Mansur Ahmed said, "We have proven that we are a force to be reckoned with in the sub-continent."
He also demanded allocation of plots for the players besides giving them a warm civic reception.
"There are some players in the U-19 cricket team whose families are not well-off. The government should allot plots for them as they have brought honours for the nation," he said.
The Bangladesh U-19 team won their maiden World Cup title defeating India by three wickets in the final yesterday.
Opposition Jatiya Party lawmaker Mujibul Haque Chunnu initiated the discussion, making a proposal for giving the young Tigers a gala reception for their outstanding achievement upon their return to the country.
He also congratulated Prime Minister Sheikh Hasina and expressed appreciation for her all-out cooperation to advance the country's sports sector.