Golden girls celebrated at home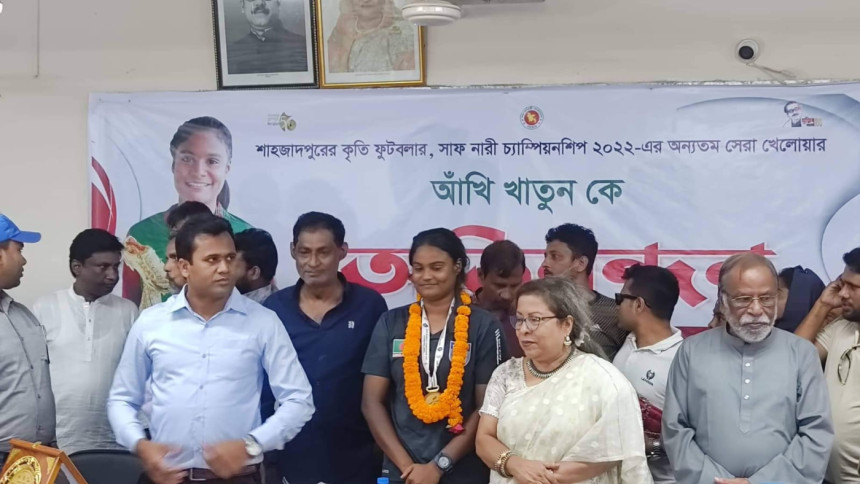 A host of Bangladesh's golden girls were accorded grand receptions as they returned to their hometowns following a maiden triumph in the SAFF Women's Championship with a 3-1 win over Nepal in the final in Kathmandu earlier this month.
Eight champions hailing from the Kalsindur village in the Dhobaura upazila were accorded a two-day reception organised by the Mymensingh District Administration and District Football Association.
Sanjida Akter, Sheuly Azim, Marzia Akter, Shamsunnahar Senior, Shamsunnahar Junior, Tahura Akter and Sajeda Akter began their journey from the Bangladesh Football Federation premises in the capital's Motijheel this morning and reached around 11:00am.
After being received with garlands, they rode on an open-top vehicle, which carried them towards the Mymensingh Circuit House after lapping the city's thoroughfares. After a break for refreshments there, the girls were taken to the venue for the reception in horse-drawn carriages. In the afternoon, a grand reception was held at the Shilpacharya Zainul Abedin Park in the afternoon.
On a day of festivities, five footballers from Rangamati were also accorded receptions in the Kawkhali Upazila at the Ghaghra High School, where Ritu Porna Chakma, Rupna Chakma, Monika Chakma, Anai Mogini and Anuching Mogini began their footballing journey.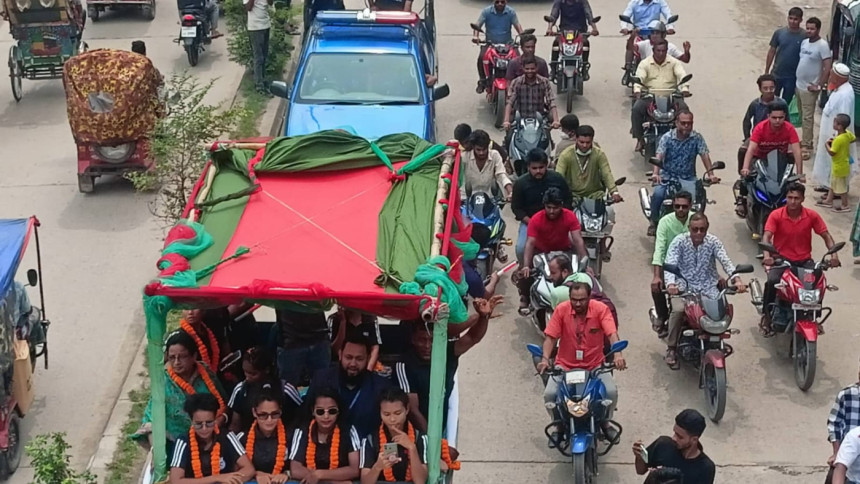 They were at the centre of a one-kilometer parade from the Ghagra Bazar to the Ghaghra High School, where they distributed sweets and cut cakes.
Later, the five champions went to Ritu Porna's village home in Moghachori for another reception, arriving to a host of people lighting up the main road to the village with torches in hand. Ghagra High School Headmistress Dharoshmoni Chakma and teacher Chandra Mohan Chakma were present alongside their childhood mentor Birsen Chakma and coach Shantimoni Chakma.
Celebrations also took hold of Rangpur, where forward Sirat Jahan Shopna, Shopna Rani and Sohagi Kisku had their reception.
Shopna, who scored four goals in the SAFF Women's Championship, and her teammates arrived at the Sydpur Airport at around 11:00am from Dhaka.
A number of people lined the Dinajpur-Rangpur highway to catch a glimpse of the champions before they reached a crowded Public Library Ground around 1:30pm.
Soon, Shopna set off for another reception in Palichara before two women's teams from greater Dinajpur and greater Rangpur played a match at the Palichara Stadium on Thursday afternoon.
Celebrations also overtook the streets of the Shahjadpur upazila in Sirajganj as Akhi Khatun made a triumphant return as the Shahjadpur upazila administration and the sports association organised a reception at the upazila auditorium.
Akhi's father Akter Hossain could not contain his emotions.
"Because of my poor background, I had no dreams. But my daughter changed everything with her brilliant sporting performances. Akhi is now renowned across the country. As a father, I feel proud of her," he said.
(Our correspondents from Rangamati, Dinajpur, Pabna and Mymensingh contributed to this story.)