'Everyone has to give more than 100 per cent'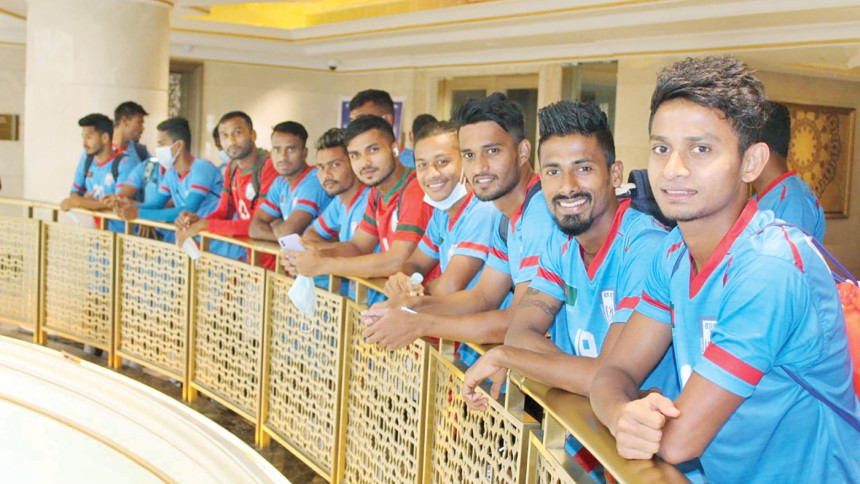 Bangladesh will look to showcase their ability against Afghanistan today as they resume their World Cup and Asian Cup Qualifiers campaign at the temperature-controlled Jassim Bin Hamad Stadium in Doha today.
The Group E match will get underway at 8:00pm (BST), preceding the hosts' game against India at 11:00pm.
Bangladesh, who are bottom of the five-team group with a single point, have faced significant setbacks. Their home advantage was lost due to the pandemic and the team has lost some key players through injuries or sickness while also getting less preparation time compared to their Group E opponents.
However, Jamie Day's charges take comfort in the fact that they have been in action through the domestic league, which was cancelled in other countries, and have played three or four matches before joining a two-week national camp. Another relief is that they will not have to contend with the scorching temperatures in Doha as stadium will be climate-controlled. The match is likely to be played around temperatures of 25 degrees Celsius.
Day and his players also appear confident that they can play as more than the sum of their parts and deliver a result against 149th-ranked Afghanistan, a team composed of Europe-based players.
"We know we have to play beyond our limits in all the games, including against Afghanistan, so that's the target," Jamie told The Daily Star over phone from Qatar. "It's about doing the best we can in the situation we find ourselves in currently."
Afghanistan's preparation is superior to most everyone else's. They came to Qatar after playing two practice matches against Indonesia (3-2) and Singapore (1-1) and they will definitely be hoping to carry their good form into the match against Bangladesh, whom they beat 1-0 in their home match in Dushanbe in September, 2019.
"They are a good side with some very technical players playing in Asia and around Europe. In my opinion (Afghanistan) had the best preparation, so it's [going to be] an extremely difficult game and tougher than in Dushanbe," said the Brit.
In the absence of experienced players like Bishwanath Ghosh, Nabib Newaj Jibon, Saad Uddin, Mahbubur Rahman Sufil and Rabiul Hasan, Jamie Day believes his charges as not as sharp as last time.
 "I don't believe we are as sharp as we were going into previous games," the 41-year-old said.
Captain Jamal Bhuiyan was ready to take on the challenge with the young guns.
"I think the team is ready for tomorrow's game. We know it's going to be a hard game because there are a lot of new players in our squad. But at the same time, these players know what the management wants from them and we all have the same aim: to win the match against Afghanistan. I think we have a good chance to get points," Jamal told The Daily Star.
Echoing his coach's sentiments, defender Tapu Barman told The Daily Star: "Everyone knows that all players from the goalkeeper to the forwards have to give more than 100 per cent if we want to get points from Afghanistan."
With inexperienced forwards up top, the defence has to play a key role and Tapu believes he has to lead the line in stopping Afghanistan's forwards as well keeping options open for Bangladeshi forwards.
"The most important thing is that we all are motivated ahead of tomorrow's match and we are really confident of putting on a good show because we are in good shape. If we can play as a team, I believe we can beat Afghanistan. I also know that I have to play a good role in defence and I will try to lead the defensive organisation and inspire the goalkeeper to keep a sheet clean," Tapu told The Daily Star.
Bangladesh have suffered defeat twice in seven matches against Afghanistan and have not beaten them in the past five matches since a 4-1 win in 1979.