Police snatch title on exciting final day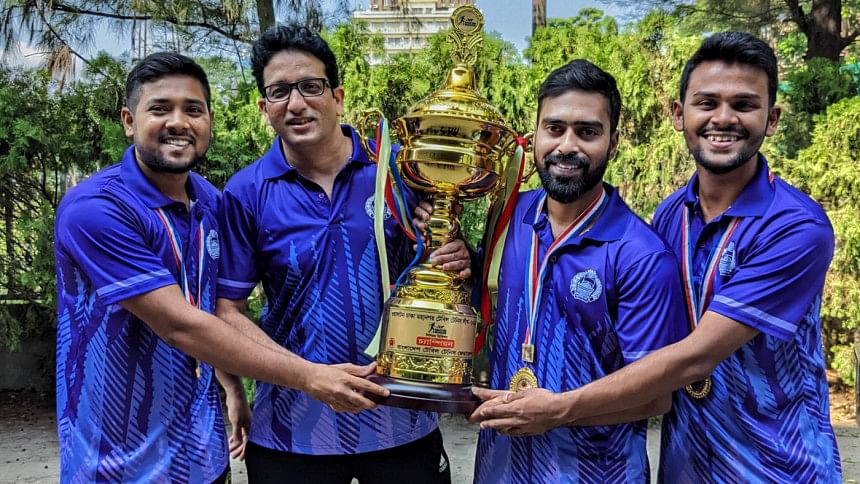 Bangladesh Police Club were crowned as champions of the Premier Division Table Tennis League after an exciting 3-2 win over Wari Club in the last match of the Super Four League at the Shaheed Tajuddin Ahmed Indoor Stadium yesterday.
Police Club, which on Wednesday clinched their maiden Women's Premier Division Table Tennis League title, came into a must-win final match against eventual runners-up Wari Club, who had beaten Police Club 3-1 in the first phase of league matches.
However, former national champions Javed Ahmed and Manosh Chowdhury held their nerve to not only exact vengeance but also deliver a maiden trophy for Police Club, who were runners-up in their maiden appearance in the last edition.
Javed first beat Ramhim Lian Bawm in straight sets in the first match before defending champion Mohtasin Ahmed Hridoy beat former champion Manosh in straight sets to level the margin. Wari then took a 2-1 lead overall, with Emon beating Imran Hossain Rridoy 3-1 in the third match. Manosh brought Police back into the match by beating Ramhim 3-2 before Javed showed his character by defeating Mohtasin 3-1 in the deciding fifth match.
The win saw Police Club join Wari Club in first place, with both teams tied on 22 points from 12 matches. However, Police Club emerged as champions by virtue of their head-to-head record in the Super League match as per bylaws.
"It was really tough challenge for the players, who prepared themselves individually due to a shortage of practice venues. However, they showed their brilliance once they started playing. They also had the experience of playing together before. Manosh, Javed and Sajib also played together to make Sheikh Russel KC champions in last edition," said Police coach Mohammad Ali, adding that new clauses in the bylaws had given the players a boost ahead of the match.
"We came to know some hours before our last match that if we could beat Wari Club, we would be champions since no records from the first-phase would be considered. So, it inspired the players to perform better because there was no pressure," said Ali, who also guided the Police women's team to glory.