Paddlers into quarters of Islamic Solidarity Games
Imranur finishes sixth in 100m sprint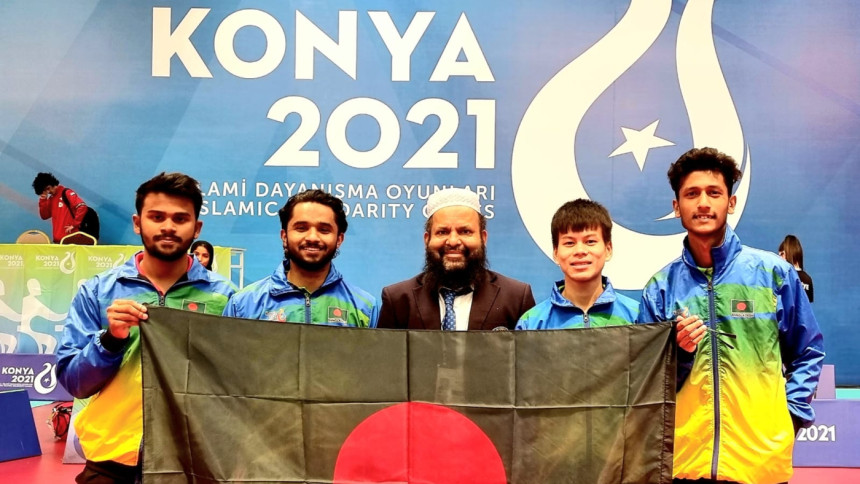 Bangladesh Men's table tennis team moved into the quarterfinals of the Islamic Solidarity Games after a hard-fought 3-2 win over the Maldives in Konya today.
The men in red and green are scheduled to play the quarterfinal match tonight.
Mohutasin Ahmed Ridoy and Ramhimlian Bawm won their respective matches to take a 2-0 lead before Maldives bounced back to level it 2-2 by beating Bangladesh in the doubles and singles events, respectively. 
In the deciding fifth and final set, Rifat Mahmud Sabbir beat his Maldivian counterpart in the singles event to take Bangladesh to the quarterfinals. 
Meanwhile, Bangladesh's England-based sprinter Imranur Rahman last night had to be content with a sixth-place finish in the seven-man final of the 100m sprint with a timing of 10.17 seconds. Arthur Cisse of Ivory Coast became the fastest man in the Games, clocking at 9.78 seconds.
Abdullah Akbar of Saudi Arabia won silver with a timing of 9.95 seconds while Al Rarthy of Oman and Jafar Barnes of Turkey jointly won bronze medals, both clocking at 9.98 seconds.
Imranur, who had produced his career-best timing of 10.01 seconds in the Heat, clocked at 10.06 seconds in the semifinals to qualify for the final.