8000 miles non-stop and still counting, 73-year-old shows the way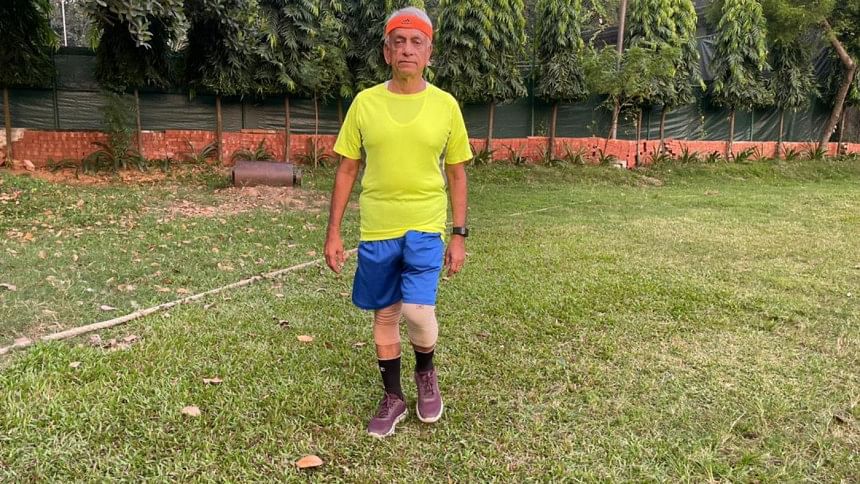 "It doesn't matter what field you're talking about – beating somebody else just doesn't do it for me. I'm much more interested in whether I reach the goals that I set for myself, so in this sense long-distance running is the perfect fit for a mindset like mine," renowned Japanese writer Haruki Murakami wrote in his memoir, titled: What I talk about when I talk about running.
The importance of Murakami's mindset can be felt by people from all walks of life but not everyone can adopt it as inspiringly as how the protagonist in this story did, and continues to do so.
Shahudul Haque, SYSCOM's Managing Director, has overcome several health adversities throughout his life, courtesy of his relentless strive towards maintaining fitness. The 73-year-old's fitness routine is bound to inspire.
Over the past 762 days -- as of Thursday since October 16, 2020 -- he walked at an average of 10.5 miles per day, and that too without taking a day-off, tallying over 8,000 miles. Furthermore, he went on to hit an impressive average of 37 floors per day, as per of his stair-climbing routine, in the aforementioned 25-month time period. But that's just the tip of the iceberg.
"I felt healthy, rejuvenated. No other illness affected me throughout this duration," said Shahudul, referring to the time following the coronavirus pandemic.
"But the biggest change came in 2020 during the time of the Covid-19 pandemic, when I started walking within the confines of my home for hours," he continued.
"When the lockdown restrictions were lowered, I went out for early morning walks, late night walks, and sometimes walked all the way to the office and back. I never missed a single day.
"Even the days I felt a little tired or weak, I walked five or six miles and later on had walked around 15-16 miles in other days to compensate for the gap so that my average did not go below 10 [miles per day]."
As Hippocrates, a famous Greek physician of the classical period, had famously said, "walking is man's best medicine," and individuals like Shahudul Haque have shown that the notion is as relevant as ever, and that age is only a mere number.
Being a son of a military officer, Shahudul naturally grew up in an environment dictated by discipline. But unfortunately, he lost his father to a heart-attack in 1979. A young Shahudul had then vowed to not take his own health for granted.
For around eight to 10 years, he remained content with jogging regularly in the neighbourhood until he got to know that jogging on the urban streets may end up damaging his knees in the long run, which triggered his search for more sustainable forms of exercise.
In 1999, he started swimming, almost ritualistically, and maintained the activity for over a decade. After a few years, alongside walking, he added stair-climbing to his routine. But he never anticipated a serious health crisis awaited him.
"I knew swimming before, but from 1999 to 2010, I swam as a part of my exercise, for around one mile and a half without any breaks. I began climbing stairs after finishing my walking routine.
"However, during the last few years, I started feeling a slight ache on my chest. It was a minor concern initially as it would go off after a little rest, but this kept on recurring. During an annual medical test in 2014, the doctors informed me that I had cardiac-related concerns," he said.
For someone as devoted to regular exercise as Shahudul, it was very difficult for him and his family to accept the fact that he had a heart blockage.
"The results showed that the primary artery in my heart had 90% blockage and 70% in the secondary. Then I asked them how I survived all this time. They told me that thanks to my consistent exercise, a bypass was automatically created around the blockage and that allowed blood to flow to my heart. Afterwards, I had to undergo a stent placement to fix the blockage," he informed.
Following the procedure, Shahudul started to get back to his regular exercise routine while following his doctor's advice and in 2018, Shahudul's brother gifted him a device that changed his lifestyle for the good: a smartwatch.
"This smartwatch kept me motivated towards walking. It has all my daily, weekly, monthly and yearly records. The data show that my stats are higher than 99% of their other users, and my heart-rate matches an average 35-year-old's," the veteran shared his experience with pride, and he now looks forward to the possibility of setting a Guinness world record.