0.1 separates Nafisha's career-best score from Koly's feat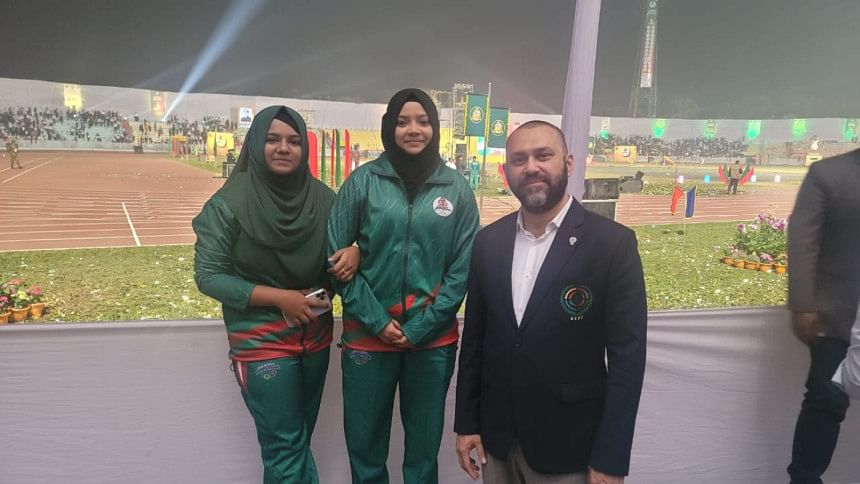 Shooter Nafisha Tabasum narrowly missed the opportunity to scale a national record despite making her career-best score at the ISSF World Cup in Baku, Azerbaijan, on Friday.
With a score of 629.1 out of 654, Nafisha still finished 23rd among 158 shooters in women's 10m Air Rifle event as the eighth and last shooter who moved to the final round had registered a score of 631.5.
24-year-old Nafisha was only 0.1 points off from emulating compatriot Kamrunnahar Koly's score of 629.2, a record by any Bangladeshi shooter, made during the ISSF World Championships in Cairo in October 2022.
Koly, interestingly, has been the first Bangladeshi shooter to have qualified for the final in ISSF World Cup held in Jakarta in last January. Koly qualified for women's 10m air rifle final in Jakarta with a score of 628.8 as the sixth finisher but she eventually had to be content being the eighth.
However, Koly had a day to forget today as she registered her worst score by finishing 134th with a lowly 616.2, while Shaira Afreen tallied 626.8 to finish 55th in the competition.
In the men's 10m Air Rifle event, male shooters were outshined by their female teammates as Robiul Hasan, Rabbi Hasan Munna and Sharar Arnab finished 40th (627 points), 91st (621.6), and 106th (619.3), respectively, among 127 shooters.