Messi - Champions League's greatest player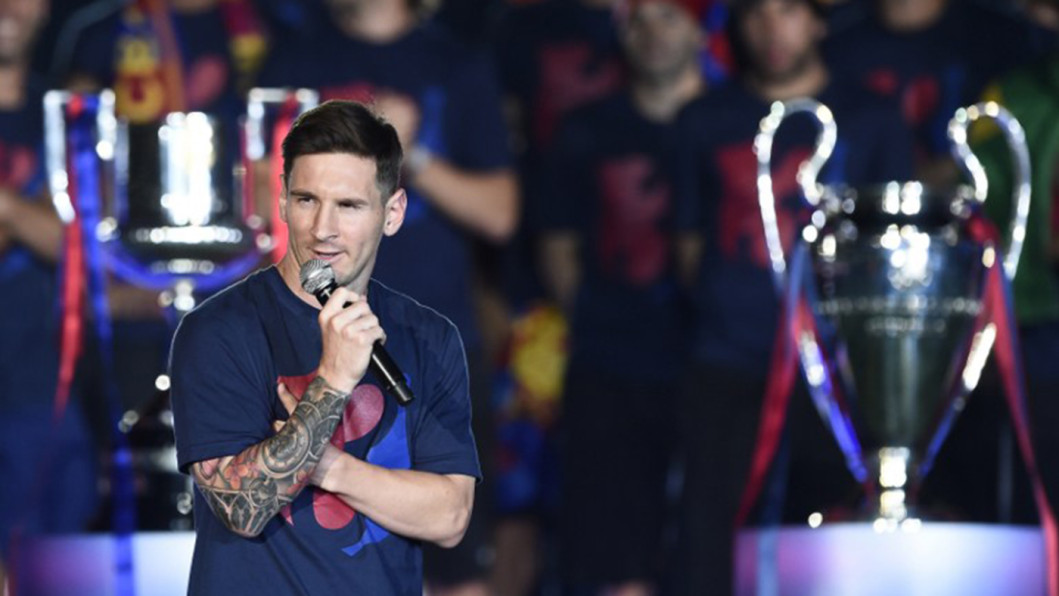 Another milestone for Lionel Messi. The Barcelona forward will make his 100th apperance in the Champions League on Wednesday as the Catalans travel to Roma.
Whatever happens in the rest of his career, he is already the greatest player to have graced the continental competition.
Messi made his Champions League debut against Shakhtar Donetsk in December 2004 and has featured in 11 editions of the prestigious tournament, winning it four times so far.
He also leads the scoring charts with 77 goals in his 99 games to date (along with Cristiano Ronaldo, who has an additional goal in a qualifier that is not counted by Uefa in the overall tallies). And at just 28, there are likely to be many more to come.
His first goal came in a 5-0 win over Panathinaikos in the group stages in November 2005 and Barca went on to win the compeititon that season for the first time since their maiden triumph in the old European Cup back in 1992.
But Messi suffered an injury in the quarter-final second leg against Chelsea and would play no part in the latter stages, recovering in time for the final but failing to make the bench in Paris where Frank Rijkaard's men came from behind to beat Arsenal 2-1.
At the age of 19, he had won European club football's greatest prize, yet he had not felt the triumph was his.
No matter. There was to be plenty more to come and Messi played a pivotal part in his side's subsequent successes in the continental competition in the next nine years.
Under Pep Guardiola in 2008-09, the Argentine attacker stole the show with nine goals in 12 games, including a memorable one in the final as Barca beat Manchester United in Rome's Stadio Olimpico, the same stadium where he will make his 100th Champions League appearance on Wednesday.
The 2009 showpiece was billed as a match-up between Messi and Ronaldo. Many believed at the time that the Portuguese was the more complete player, partly due to his aerial ability.
But Messi marked the occasion with a header which gave Edwin van der Sar no chance and showed the world a new facet to his game as the Catalans claimed a treble of Liga, Copa del Rey and Champions League crowns.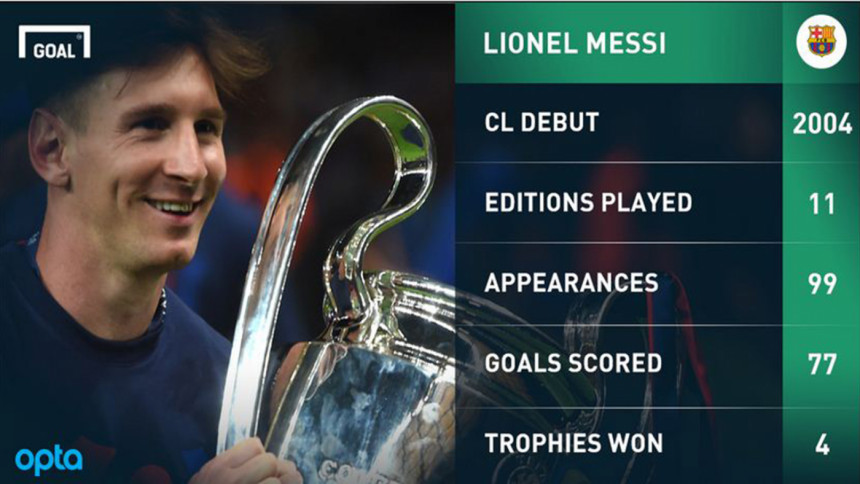 The following season saw him score four against Arsenal and led to Arsene Wenger joking that he was a "Playstation" player, but Barca were left frustrated as they lost out narrowly to Jose Mourinho's Inter at the semi-final stage.
In 2010-11, Messi's 12 goals in 13 games helped Barca to a third final in five years and against Manchester United again (this time at Wembley), the Argentine lashed home a stunning strike from outside the box in a 3-1 win which saw the Blaugrana play some of their finest football in the Guardiola era.
Leo, as usual, was at the heart of it all.
In 2011-12, he then set a new record for goals in a single Champions League season (since beaten by Ronaldo) as he netted 14 times in 11 appearances (including five in one game against Bayer Leverkusen, rivals again in the group stages this term).
It would ultimately end in disappointment, however, as he missed a penalty at Camp Nou in the semi-final second leg against Chelsea and Barca were surprisingly knocked out by the Blues.
Injuries interrupted the next season, but a limping Leo still emerged from the bench to rescue his team as he set up Pedro for a crucial goal against Paris Saint-Germain in the quarter-finals.
That came after inspiring a memorable comeback against AC Milan in the last 16 with a 4-0 victory at Camp Nou following their 2-0 first leg defeat at San Siro.
However, he was powerless to prevent a 7-0 aggregate defeat against Bayern Munich in the semi-finals, looking some way short of full fitness in the first leg and then not even appearing in the return.
The 2013-14 campaign would also end in frustration as Gerardo Martino's men were knocked out in the last eight by Atletico Madrid.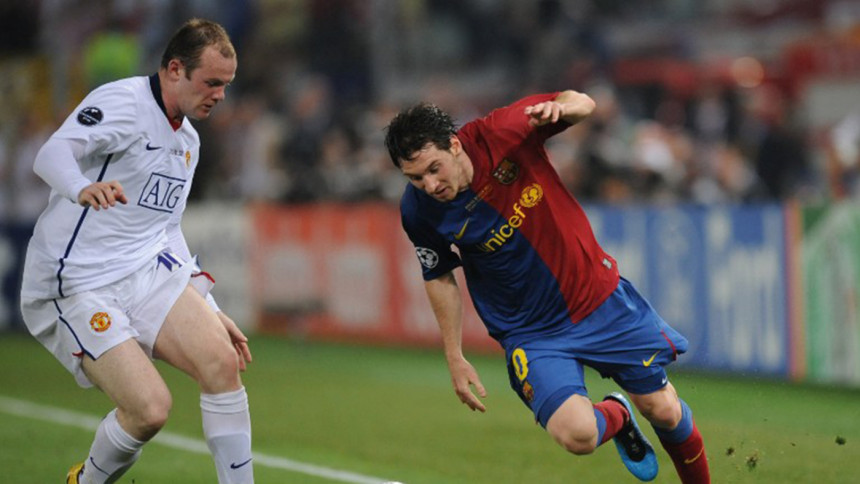 That was the first time Barca had failed to reach the Champions League semi-finals since 2006-07, but they bounced back in sumptuous style last term, inspired by Messi once again. Who else?
Now regularly operating in a deeper role under Luis Enrique and also back on the right after several years playing in the centre, Messi did not score in a 2-1 win at Manchester City but produced a masterclass of attacking football at the Etihad and ended the hopes of his former coach Guardiola in the last four as he scored twice in a 3-0 win at Camp Nou.
That included another superb strike as he tied Jerome Boateng in knots, leaving him on the ground and then beating Manuel Neuer with a delicate chip. Last week it was voted the best goal last season's Champions League at the group stage draw and few could argue.
On the same day, Messi was also announced as the Best Player in Europe for 2014-15. But he is much more than that.
Ever since the European Cup was handed a fresh format to become the Champions League in 1992-93, no player has dominated the continental competition like Leo.
And he's not finished yet.