South Asian Games 2016
MAHFUZA'S record splash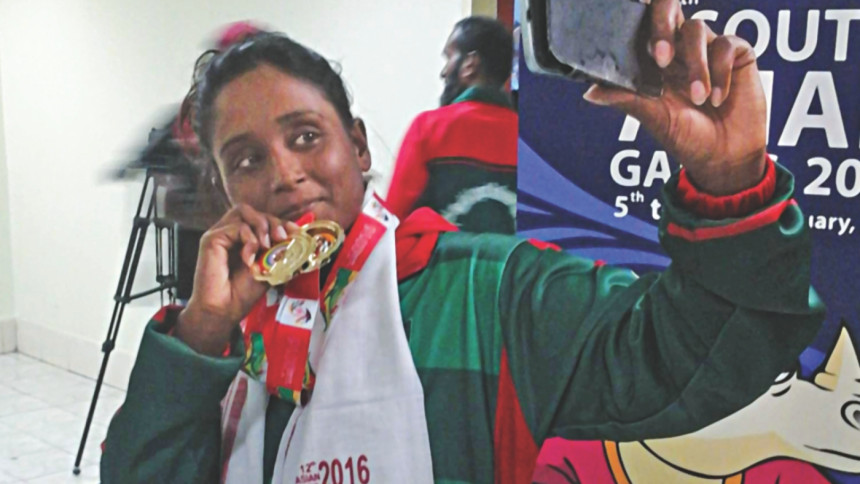 Swimmer Mahfuza Khatun Shila brought another occasion for the national anthem to be played in India after producing a South Asian Games new record in 50m breaststroke event and thereby notching up a second gold medal at the Dr. Zakir Hussain Aquatic Centre in Sarujasai Sports Complex in Guwahati yesterday.
The 25-year-old swimmer, who on Sunday had become the first Bangladeshi female swimmer to win a gold medal from the games, kept her dominance in the breaststroke event to clock 34.88 seconds to eclipse the previous record of 34.97sec, set by Sri Lankan swimmer Raheem Mayumi in the 2006 SA Games in Colombo.
Mahfuza, who had produced better timing (34.66 seconds) in heat, fought neck and neck with two Sri Lankan swimmers before accelerating her pace over the last 15 meters to put both silver medallist Hasanthi Nugawela (35.69) and bronze medallist Ramudi Samarakoon (35.99 seconds) to become the second swimmer from Bangladesh to win two gold medals from the same edition after Mokleshur Rahman achieved the feat in the 1993 edition. Mosharraf Hossain is the highest individual gold getter for Bangladesh with three gold medals in the 1985 Dhaka SA Games.
"I can't express my feeling after winning the second gold medal in the games because I am the first female swimmer in Bangladesh to win two gold medals from the SA Games. I am really very excited to win with a new record," said a smiling Mahfuza after receiving the medal. "I can't make you understand my feeling when the national anthem was played during the prize-giving ceremony."
The girl from Nawapara in Jessore said that she had once opted to quit swimming following negligence from the federation, but Korean coach Park Tea Gun inspired her to come back for the interest of the country and she made her Korean coach as well as her childhood coach Abdul Mannan happy by bringing the laurel for the nation.  
"I wanted to retire from swimming due to the negligence of the federation but Park Tae Gun inspired me to come back in swimming again because he had faith that I could do something. I kept everything out of my mind and swam for myself and the country," said Mahfuza, who completed her masters' degree from Chittagong University last month.
"My father and mother are very happy. I can't say how happy they are," said Mahfuza after speaking with her family members over phone.
"I am really angry with the federation because they did not send me to international meets despite the fact that I set national records. I think winning two gold medals was the right reply to them. I will request the federation not to put female swimmers behind by citing a lame reason that they are getting older."
Mahfuza also hoped that the federation will help her make her dream true by allowing her to take part in the Olympic Games this year.