Bangladesh Premier League, 11th Match
Comilla thrash Rangpur by 9 wickets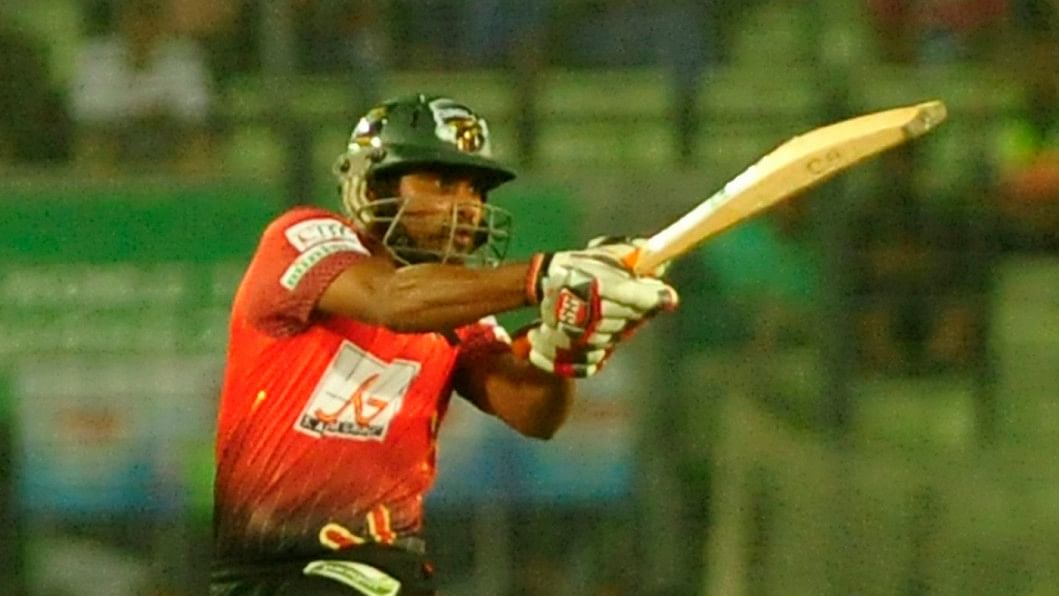 Comilla Victorians showed why they are the early favourites to win this year's BPL with another professional performance with the bat and ball against Rangpur Riders today.
Marlon Samuels struck the winning run as his team won by nine wickets with 49 balls remaining in this one-sided encounter.
Comilla Victorians v Rangpur Riders
Comilla: 
84/1 (11.5/20 over)
Rangpur: 
82 (19.5/20 over)
He was unbeaten on 42 from 24 balls. The West Indian entertained the Mirpur crowd with eight fours and a massive six.
Imrul Kayes played the second fiddle, and calmly went about scoring runs top of the order. He was not out on 24 with two fours and a six to his name.
With Marlon Samuels and Imrul Kayes at the crease, Comilla looked certain at winning the game at a canter.
Samuels was particularly severe on Rangpur medium pacers, and whacked Abu Jayed for 23 in the tenth over to bring Comilla in sight of a morale boosting triumph.
For Rangpur Riders, they would like to forget this horrible day and start afresh when BPL goes to Chittagong for the next round of matches.
Arafat Sunny struck in the sixth over, to give Rangpur Riders some respite. Mahmudul Hasan got a leading edge and was caught at extra-cover for 11.
With only 83 to get, Comilla Victorians openers Mahmudul and Imrul were solid to begin with.
Earlier, Rangpur Riders scorecard told a sorry tale in which their batsmen were the main villains responsible for the 82 all out against Comilla Victorians in the 11th match of BPL-2015.
Only two Rangpur batters reached double-digits, Mohammad Mithun 28 and Saqlain Sajib with 11 in the end.
The rest of their teammates came and went in regular intervals, only to compound the misery for the Riders.
Kulasekara was wrecker-in-chief for Comilla today, took four wickets for only 12 runs in four overs to hurt Rangpur badly.
Comilla captain Mashrafe Mortaza must be happy with his team, and his bowling unit, with Narine, Zaidi and Hider among the wickets on a glorious day for the Victorians.
Two run-outs in the end marked the tame end to Rangpur's resistance, Abu Jayed and Arafat Sunny tried desperately to score but failed to contact most of the time.
Kulasekara got his countryman Senanayake for nine when his full ball found timber, and completed another brilliant day at the office for the Victorians player.
Mohammad Mithun's vigil came to an end in the 17 th over when Kulasekara came back to polish off Rangpur.
Mithun was the top-scorer for Riders on this miserable day with 28 runs from 42 balls.
Thisara Perera could not rescue his team, and give the impetus with much-needed runs. His failure when Abu Hider dismissed him placed Comilla firmly in the driver's seat
Perera scored nine runs with a boundary, and didn't look comfortable at the crease.
Ashar Zaidi came to bowl immediately made an impact as Al-Amin misread his quicker delivery and was lbw for a duck to leave Rangpur deeper in trouble.
Abu Hider got the important scalp of Misbah-ul-Haq, but the bowler was extremely lucky considering the ball had pitched outside the leg-stump.
Another umpiring gaffe probably sealed Rangpur Riders' fate, with Misbah gone for six.
Comila Victorians skipper made the right bowling changes, and didn't allow the Rangpur batters settle down on a slow, difficult pitch.
Early strikes from Nuwan Kulasekara and Sunil Narine of Comilla Victorians rocked Rangpur Riders early in the 11th match BPL-2015 Mirpur.
Sunil Narine drove in the dagger deep in Rangpur's heart with Jahurul Islam's wicket in the fifth over after the two-wicket burst by Kulasekara to get things going.
Jahurul clipped the ball from Narine high up in the air and found the fielder atdeep mid-wicket after scoring four runs.
Rangpur Riders were rattled after they came out to bat, lost two key wickets to the Sri Lankan bowler Kulasekara.
Lendl Simmons and Soumya Sarkar departed in consecutive balls.
Simmons wanted to drive through the off-side, got a healthy edge to Imrul at slip. He played seven balls for three.
Soumya's wretched form continued with another single-digit score when his leading edge was pounced by Imrul Kayes at third man.
Comilla Victorians captain Mashrafe Mortaza was confident of his team's chances today, and decided to bowl first after winning the toss.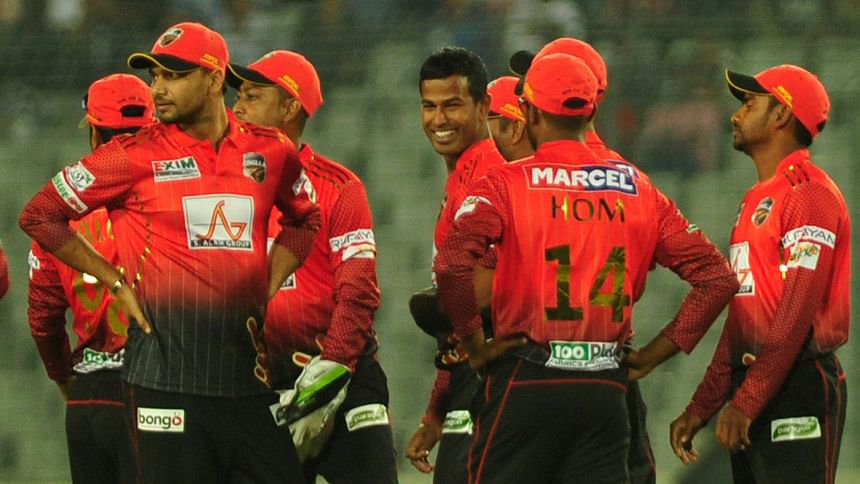 Comilla Victorians
Imrul Kayes, Mahmudul Hasan, Mashrafe Mortaza (Captain), Shuvagata Hom, Abu Hider, Dhiman Ghosh (Wicketkeeper), Alok Kapali, KMDN Kulasekara, MN Samuels, SP Narine, Ashar Zaidi
Rangpur Riders
Saqlain Sajib, Arafat Sunny, Abu Jayed, Al-Amin, SMSM Senanayake, Misbah-ul-Haq (Captain), NLTC Perera, LMP Simmons, Soumya Sarkar, Mohammad Mithun (Wicketkeeper) and Jahurul Islam