ICC Cricket World Cup 2015
'Not feeling any pressure'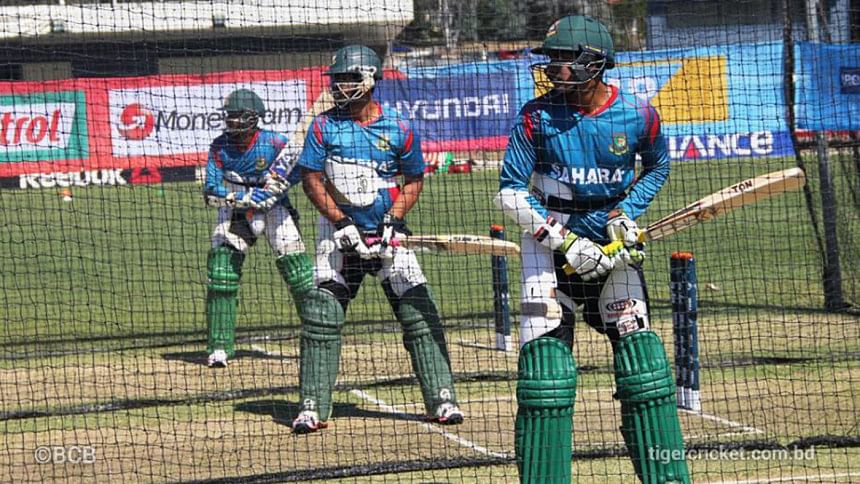 Down the track and boom! Tamim Iqbal's cross-batted smack against Zaheer Khan in 2007 still remains, arguably so, the most memorable cricket shot played by a Bangladeshi batsman in the World Cup.
The fearlessness with which Tamim and a number of others batted at the Port of Spain that day left a legendary Indian team stunned. Eight years on and the left-hander sees a bit of himself in some of these Afghanistan players, albeit his batting has changed quite a bit since then; with the older Tamim trying hard to spend as much time as possible at the crease.
"In my opinion, Afghanistan's main strength lies in their self-belief and fearless approach," Tamim said while speaking to The Daily Star at the lobby of Hyatt Hotel in Canberra yesterday.   "And it's an approach that I love, because it's bound to bring you more success," he added.
However, despite the scenario, the left-hander believed that the Tigers were more than capable of crossing the Afghanistan hurdle.
"Look, since when have the Afghans become a fear factor for us? It was the Asia Cup when we lost the match against them. Before that there was no such fear. But the truth is that one match cannot change everything. I firmly believe that if we can play our game we can definitely win this game," said Tamim.
"It would be unwise to put unnecessary pressure. I know the expectation is high regarding this match. But after playing international cricket for so many years it would be ridiculous to say that the expectation is putting pressure on us. We should handle these kinds of things professionally," he added.
There will be extra pressure on the left-hander to perform this time around especially with teams crossing the 300-run mark with ease in the World Cup. The start provided by the openers would be extremely crucial. Prior to leaving Bangladesh Tamim had said that he would want to be the first Bangladeshi cricketer to score a century in the World Cup, and he probably won't get a better moment than this one.
"Despite the amount of runs scored, I am not ready to think that one needs to score 300 runs to win a match. If you can score 300, then that's good. But I believe that a score above 250 would be fantastic for us.
"I am confident because of our performance against Pakistan in the warm-up. Everybody forgot about that because of our poor show against Ireland. But our performance against Pakistan showed enough evidence about our ability to win," a confident Tamim said.  
Having arrived in Brisbane in the last week of January, the Tigers tried their best to acclimatise to the foreign conditions as quickly as possible. "The common feeling in the team is that one is bound to be a good player if he is groomed in these kinds of condition.
"The facilities, the wickets, everything is fantastic here. But you cannot bring any major changes practising here only for a few weeks. So we have to rely on our own strength and we should try to play to the best of our ability," believed the opener.
There has been plenty of talk regarding Tamim's role in this World Cup. There was even a time when some expected him to be ruled out of the competition. He is still going through a rehab programme after undergoing a surgery on his knee.
However, the left-hander is ready to overlook all that when it comes to representing his nation in the mega event.
More inspiring than his effort is his philosophy of the game.
"You may not be Sachin Tendulkar but you have to dream of becoming a player like him. You have to have that self-belief," he remarked.