Wenger rages at 'farcical' penalty, vows to fight charge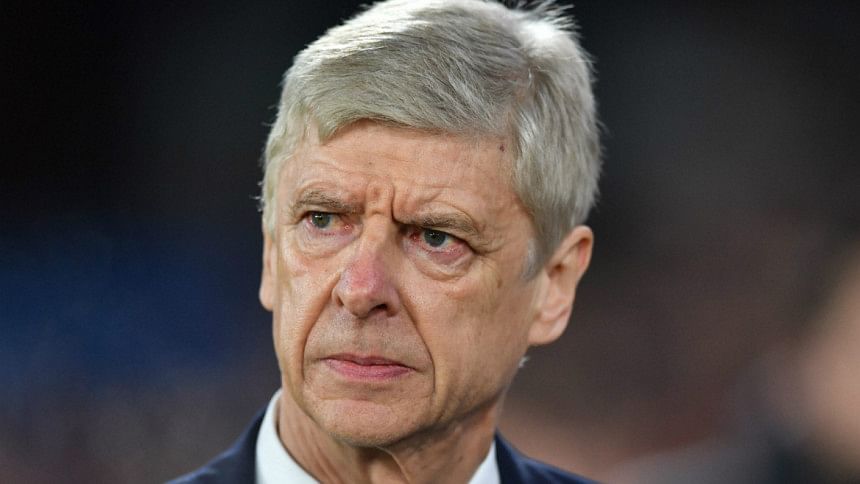 Arsene Wenger slammed the "farcical" penalty decision that cost Arsenal in their thrilling 2-2 draw against Chelsea and vowed to fight a Football Association charge in his latest furious attack on the authorities.
Wenger was seething after referee Anthony Taylor awarded a penalty for Hector Bellerin's challenge on Eden Hazard in the second half of Wednesday's heated London derby at the Emirates Stadium.
The Arsenal manager felt there wasn't enough evidence of a foul to justify Taylor's decision and Hazard rubbed salt into the wound by converting the spot-kick to cancel out Jack Wilshere's opener.
After Marcos Alonso put Chelsea in front with six minutes left, Bellerin enjoyed a sweet moment of redemption as he blasted Arsenal's 90th-minute equaliser.
But Wenger's anger wasn't soothed by that dramatic intervention and, recalling the controversial penalty awarded for a handball by Arsenal's Calum Chambers in Sunday's draw at West Brom, he launched another broadside at the officials.
"We got again a farcical decision on the penalty, but we knew that (could happen) before the game," Wenger said.
"You could give 10 penalties like that a game. Since the start of the season it is what we have to take.
"I'm fed up with that. At the moment we have to face surprising decisions.
"Nothing will change and we have to deal with that."
Wenger was hit with an FA charge for his conduct towards referee Mike Dean after the Chambers penalty incident.
But although he risked further censure with his latest outburst, the Frenchman, who could be given a touchline ban, insisted he has every intention of stating his case in front of the governing body.
"(I will contest the charge) 100 percent. You can listen to every interview and I stick to everything I said without any problem," he said.
"I am 35 years in football and I know what I said.
"What I find terrible is we just saw a great game and we talk only about this and for me it would be nice if we think about football for a change."
- 'Show respect' -
Once he had calmed down, Wenger reserved praise for Arsenal midfielder Wilshere, who scored his first league goal for the club since May 2015.
Wilshere appeared to have no future with the Gunners when he was sent on loan to Bournemouth last season, but now Wenger says he deserves an England recall.
"He is where not many people expected him to be. Since Euro 2016 he hasn't played for England. I would say that means everyone had given up on him," he said.
"Now no one would be surprised if he was selected again. He deserves great credit for that."
Chelsea manager Antonio Conte said Wenger should show more respect for the officials as he responded to his rival's complaints.
"For sure there is a lot of frustration from the coach after the game. Sometimes we don't agree with them, but we must have great respect for the decision of the referee," he said.
Conte also defended Alvaro Morata after the Chelsea striker missed a host of chances to continue his erratic first season in England following his move from Real Madrid.
"For a striker it is very important to score, it is a pity, he had many chances to score, but I'm very happy with his commitment and effort,' Conte said.
"This is the first season he is playing with regularity, because he didn't play with Real Madrid and also Juventus. He has to stay calm and continue to play this way, the goals are coming."
With Chelsea 16 points behind runaway leaders Manchester City, Conte conceded the champions wouldn't be able to retain the title.
"We must be realistic. It is very difficult to catch them. We fight for a place in the Champions League," he said.