U-16s gearing up for the next step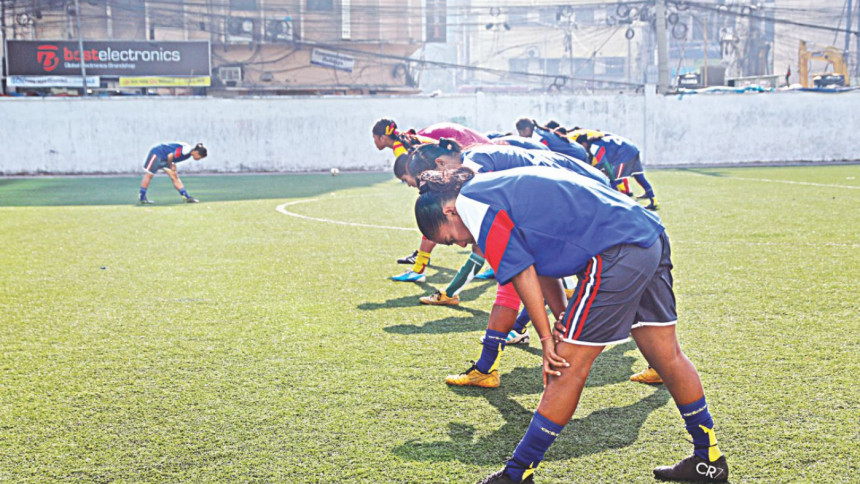 Having lifted back-to-back AFC U-14 Women's Regional Championship titles, Bangladesh now have the ambition of qualifying for the finals of next year's AFC U-16 Women's Championship by emerging champions in their Group C Qualifiers beginning at Bangabandhu National Stadium from Saturday.
Bangladesh, who were placed in Group C along with Iran, Chinese Taipei, Singapore, Kyrgyzstan and UAE, do not want to give their opponents any quarters, although Iran and Chinese Taipei are considered the group favourites.
"It is tough to secure the first place in Group, but it is not impossible if you look at our performances at international level in the last two years. Considering that, we are also a strong team as we beat Iran in the AFC U-14 tournament in Nepal. We will certainly give them a tough fight on the pitch," said coach Golam Rabbani Choton -- who guided Bangladesh U-14 women's team to the championship twice -- at a press conference at the BFF House yesterday.
In the last edition of the AFC U-16 Women's Championship Qualifiers in Dhaka, Bangladesh beat Jordan 1-0 and UAE 6-0 but went down by identical 2-1 margins against India and eventual group champions Iran despite taking the lead against both teams.
The Bangladesh Football Federation (BFF) yesterday announced a 23-member final squad, which contains 12 players from the U-14 women's team while 11 players have the experience of playing for the senior women's national team.
Under the guidance of Choton, the girls had nearly two-and-a-half months of training and played three practice matches against the senior women's team, winning all three by convincing margins of 9-1, 6-1 and 6-0.
Captain-cum-striker Krishna Rani is seemingly confident of carrying the performance of the U-14 women's team into the U-16 Qualifying round.
"Our main strength is that we have been together for a long time, so we have a good understanding. Besides, we worked hard in the last two months in training to get better results," said Krishna, who captained the U-14 women's team to the championship in Nepal last year.
"We beat Iran U-14 team in the AFC Regional championship in Nepal. We are now in the U-16 team, so we can expect something good in the Qualifiers," said Krishna, who represented Bangladesh national women's team in the SA Games in India earlier this year.