Righteous or robbery?
Press, like everyone else, divided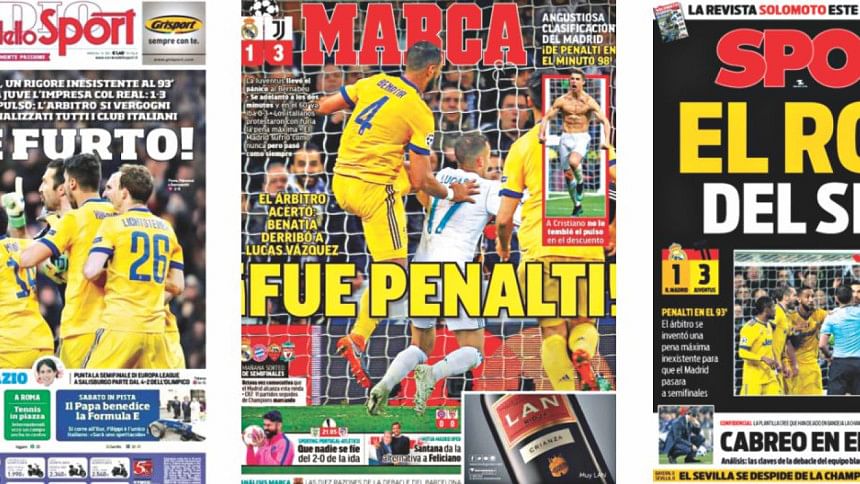 They did not see the same match. What Italian newspaper Corriere dello Sport on Wednesday morning titled 'What a scam', Madrid daily Marca replied to with 'There was penalty'.
The spot-kick, awarded by referee Michael Oliver to Real Madrid in stoppage time in the second leg of the Champions League quarterfinal against Juventus, allowed Real Madrid to qualify by the skin of their teeth.
"If there is a savage and sadistic way to be eliminated, then this is it," wrote Fabrizio Bocca in La Repubblica. "Better, much better, to go to the Bernabeu, lose the match and amen. See you again next year. Like this, no, like this everything stays open and everything feels unfinished, like a door slammed in your face."
The focus of most reports were understandably on referee Michael Oliver, although none outright denied a penalty. Francesco Ceniti in Gazzetta dello Sport wrote: "To concede a debatable penalty that decides access to the semifinal of the Champions League, on a refereeing level, qualifies a mistake. We need to start with this premise before analysing the incident which rightly infuriated Juve. Because every referee knows well that there are moments in which your whistle has a different weight and so you only punish obvious fouls."
Spanish daily AS wrote that Madrid went "from panic to the semifinals". "Juventus climbed towards their impossible dream and for half an hour walked over a confused, dazed and cowardly Madrid. But Madrid came back. Madrid always come back."