Neymar undergoes successful operation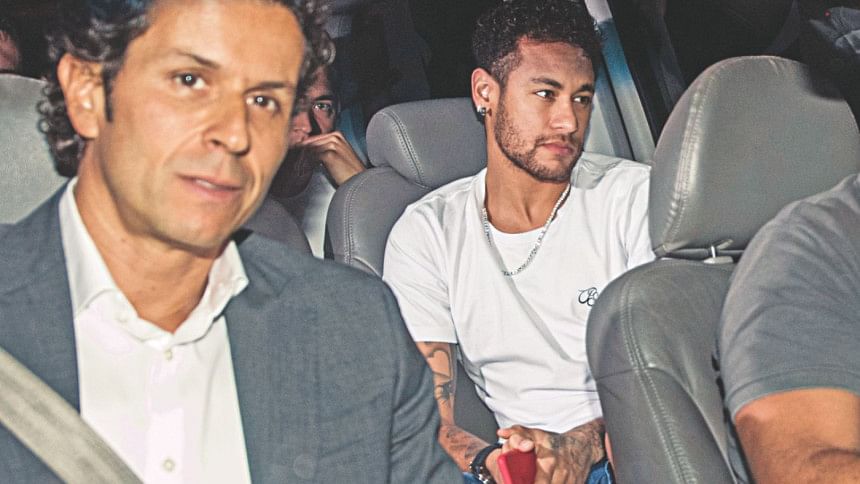 Brazil and Paris Saint-Germain superstar Neymar underwent successful surgery on his broken foot on Saturday, officials said, leaving the planet's most expensive footballer in a race to recover before the World Cup.
The operation, performed by Brazilian national team surgeon Rodrigo Lasmar, began early on Saturday morning in the Mater Dei hospital in Belo Horizonte.
Just after midday (1500 GMT), a spokesman from the Brazilian football federation announced that the operation was over.
"Neymar is already in his room. It went well," he said.
PSG later added that he would not be able to return to training for at least six weeks, and insisted they would be monitoring his recuperation.
"The post-operation rehabilitation will begin immediately under the control of the club's physiotherapist," PSG said in a statement on their website.
"An assessment will be conducted in six weeks in order to determine the possible date of his return to training."
Neymar broke his fifth metatarsal -- the bone leading to his small toe -- during a 3-0 drubbing of Marseille on February 25.
The striker -- whose transfer from Barcelona cost PSG a record 222 million euros ($264 million) last August -- has scored 28 goals in 30 appearances in all competitions for the club.
Neymar will definitely miss PSG's make-or-break Champions League last 16 second leg against Real Madrid next Tuesday. But with Lasmar predicting a recovery period of two and a half to three months, Brazil are worried that Neymar, 26, may not be fit for the World Cup in Russia starting in June.
The rival demands of club and country appeared to erupt into tension just as he went under the knife, with Paris newspaper L'Equipe reporting on Saturday that PSG believe Lasmar lied about Neymar's condition.
The report said that Neymar was initially found to have suffered a minor fracture and that PSG were shocked to hear Lasmar say on Thursday that it was a serious break requiring a longer than expected recuperation.
Globoesporte.com reported that PSG also insisted they control any future information on the player's health.
Staff at the hospital in Belo Horizonte, were put on paparazzi lockdown, with a ban on using cell phones anywhere near the star.
Jose Luiz Runco, a former chief medical officer for the Brazilian team, told AFP that Neymar will walk with crutches after two to three weeks, exercise while putting weight on his repaired foot after about 60 to 75 days, and only then return to training.
"He's likely to recover pretty quickly because he's an athlete and young."
"When you think how exhausting the European season is, he could even arrive fresher than the others, both physically and emotionally," said Cristiano Nunes, the physiotherapist for Brazilian club Internacional.
Neymar may not be able to walk for a while, but he is already carrying the burden of a nation's expectations.
"I hope he recovers quickly in time for the Cup," said Mateus Falqueto, 13, who waited outside the hospital in the hope of getting Neymar's autograph.
Rita di Cassia Sepulveda stopped by with her seven-year-old twin sons, Gabriel and Rafael, who are avid fans of the star.
"I don't think fans like them exist anywhere else," she said. "It's remarkable. There's a sacred place at home where they keep anything that has something to do with Neymar. They watch all the games and when Neymar was injured they cried."
Neymar has suffered 14 injuries that forced him to miss at least one game, including the fractured vertebrae during the 2014 World Cup that kept him out of Brazil's German thumping, but the latest is by far the most serious, Globoesporte.com said.