A step away from SAFF supremacy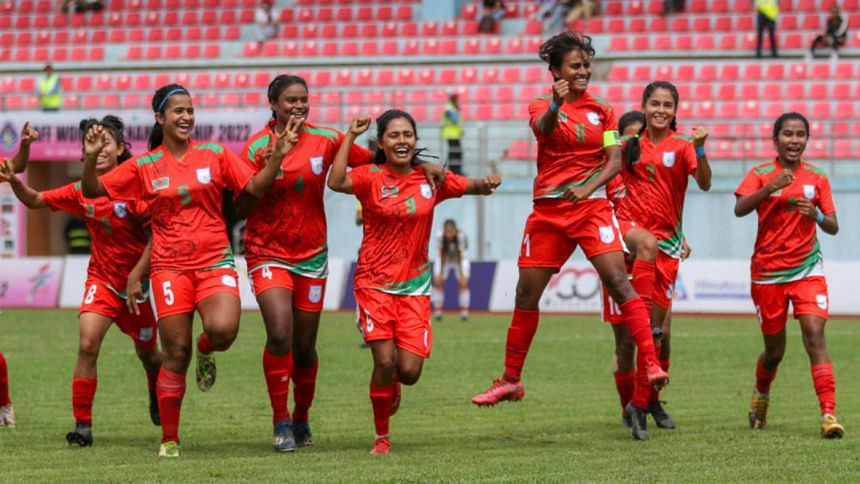 Captain Sabina Khatun, who played in a deeper role against India, slotted home a brilliant hattrick yesterday from her usual position as striker to guide Bangladesh to an emphatic 8-0 win over Bhutan in the semifinal of the SAFF Women's Championship in Kathmandu.
Bangladesh will now play the September 19 final against Nepal, who recorded a 1-0 win in the other semifinal against perennial champions India -- who had won the title in all five previous editions.
Sabina, who has played all five editions of the regional football extravaganza, is now the current edition's top-scorer with eight goals from four matches. She has twice as many goals as the second-best scorers -- her teammate Sirat Jahan Swapna, India's Anju Tamang and Pakistan's Nadia Khan, who each have four -- and is in pole position for her first golden boot at the tournament.
The 28-year-old also raised her total tally in the SAFF Women's Championship to 23 goals after leading Bangladesh to a second final and may also reclaim the tournament's most valuable player award, which she claimed in 2014 despite Bangladesh losing in the semifinals to four-time runners up Nepal.
Although Bhutan had proven tough opponents in their last two meetings, they were utterly helpless this time. Their high line was exposed time and again courtesy of some nice combination play between Sabina, Swapna, Krishna and midfielders Maria Manda and Monika Chakma.
Apart from Sabina, Sirat Jahan Swapna, Krishna Rani Sarkar, Ritu Porna Chakma, Masura Parvin and Tahura Akter also netted in the one-sided affair.
Sabina was ecstatic after getting her second hattrick of the event, with the first coming against Pakistan in the second game following a brace in the opener against the Maldives.
"I am very happy because our target was to reach the final and we made it. So we are happy," Sabina said at the post-match conference.
"Of course, it has been a landmark for me [to find herself as the tournament's top scorer] because I have been trying my best. The final match is still left. We play differently against different teams. The match against India was tough, but we tried to play in line with our game plan. That's why I did not get goals. However, I am feeling very good now."
The Satkhira native also hailed coach Golam Rabbani Choton for the outstanding performances of the women's team.
"It is also credit to our sir, who has been with women's football from the start. Now he is getting dividends. We also dedicated our triumph over India to him because we are pleased to have such a teacher and guardian," Sabina added.
Giving his players the lion's share of credit, Choton also recalled the Bangladesh Football Federation's contributions to developing the batch of footballers.
"In October of 2016, BFF president Kazi Salahuddin felt that he we should provide long-term training to the girls because they were scheduled to play the AFC U-16 Championship in Thailand in September, 2017. With that in mind, long-term training started. And it has continued with these girls, who have been together over the years. That continuation is paying off," Choton said.
Some of these promising footballers like Krishna, Swanpa, Maria Manda, Marzia, Sanjida, Masura, Sheuli Azim and Shamsunnahar and the four senior players -- Sabina Khatun, goalkeeper Sabina Akter, Suinu Pru Marma and Aungmraching Marma -- confirmed a maiden SAFF Women's Championship final in 2016, but they had to settle for a 3-1 loss to India in the final.
However, those experiences have only made them stronger and they are now bold enough to go toe-to-toe with the subcontinent's powerhouses like India and Nepal.