Pochettino positive about restoring Chelsea success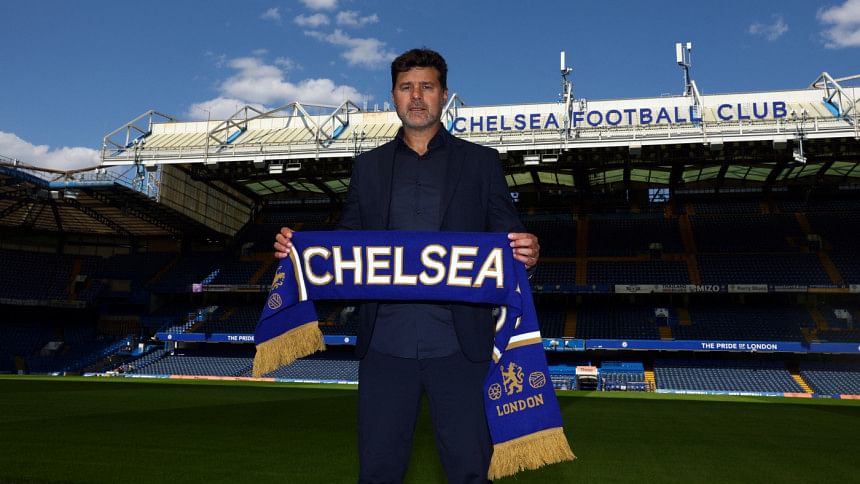 New Chelsea manager Mauricio Pochettino is confident the team will only get better as he beds in his ideas and hopes to deliver quickly, the Argentine said on Friday as the west London club presented him at a press conference.
Chelsea appointed Pochettino at the end of May after finishing 12th in the Premier League following a chaotic campaign, during which Thomas Tuchel, Graham Potter and Frank Lampard had spells in charge of the side.
The 51-year-old Pochettino, who has signed a two-year contract with the option of a further year, started work on July 1 and will hope to change Chelsea's fortunes after their worst finish since 1994.
"My target is to win, my aim is to win," the former Tottenham Hotspur and Paris St Germain coach told reporters at Stamford Bridge.
"Football is about today, yesterday. You cannot talk too much long term. We cannot tell people we need six months to create because it seems not good. We need to create the belief from the beginning.
"I think we are going to have a squad that can deliver in the short term and give what we expect and from day one we need to think to win. Then if we don't win, maybe if little by little we need more time to develop our idea, maybe it is possible.
"(But) from the beginning we need to think of the first game of the Premier League, we need to beat Liverpool."
Despite the optimism, Pochettino is aware there is a lot of work to do before they face Juergen Klopp's side in their opening match on Aug. 13.
"For me, it is clear, it is most important to finish the squad, to have a very balanced squad.
"The plan was to reduce the number of players. That for me was the most important, to find the right profiles, the players we are going to add.
"One of the challenges is that people trust my judgement ... That is the biggest power you can have."
GROWING LIST
Captain Cesar Azpilicueta on Thursday moved to Atletico Madrid, joining the growing list of players leaving Chelsea in the close season after the exits of Kalidou Koulibaly, N'Golo Kante and Edouard Mendy, who all joined Saudi Pro League clubs.
Kai Havertz, Mateo Kovacic and academy product Mason Mount have signed for Premier League rivals Arsenal, Manchester City and Manchester United respectively.
Pochettino is the third permanent Chelsea manager since the club's sale in 2022 to a consortium led by LA Dodgers part-owner Todd Boehly and backed by Clearlake Capital, a private equity firm.
The Argentine said he did not think long before accepting the offer.
"I trust in (the sporting directors) Paul (Winstanley), Laurence (Stewart) and the owners that they will provide the tools to be competitive," Pochettino added.
"I think it was a nice conversation from the beginning, they were very honest with me. They showed the plan. The good and not so good things that need to happen before the first of July and after.
"I think they are clever people and football always is about being clever and learning from past experience. I feel good."