Officials excluded from PL fixtures after penalty error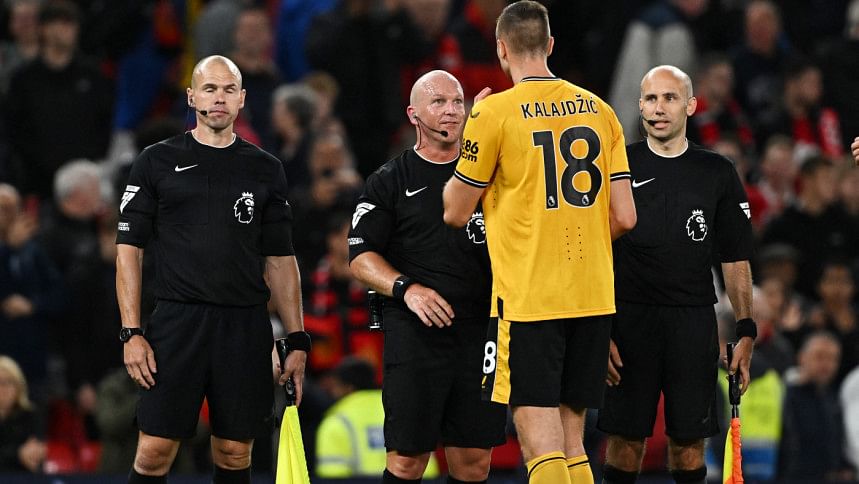 Simon Hooper, Michael Salisbury and Richard West will not officiate Premier League games this weekend after Wolverhampton Wanderers had a penalty appeal turned down in their defeat by Manchester United on Monday.
Wolves were convinced they should have had a penalty in added time, after United goalkeeper Andre Onana clattered into Sasa Kalajdzic in trying to deal with a cross.
The match ended in a 1-0 loss for Wolves. Hooper was the on-field referee and Salisbury and West were tasked with Video Assistant Referee (VAR) duties.
Wolves manager Gary O'Neil said the referees' failure to award a spot-kick had highlighted a grey area in how VAR is used and that referees manager Jon Moss had apologised to him for the error.
"Jon Moss said it was a blatant penalty and should have been given - fair play to him, he apologised," O'Neil told reporters.
"... But fair play to Jon for coming out and saying it was a clear and obvious error - he couldn't believe the on-field referee didn't give it and can't believe VAR didn't intervene.
"It probably made me feel worse, actually, because you know you are right. Live, I was told they didn't think it was a clear and obvious error."
Salisbury was also dropped for a round of fixtures in April after Brighton & Hove Albion were denied a penalty in a 2-1 defeat by Tottenham Hotspur.