No public appearance for Emi Martinez in Dhaka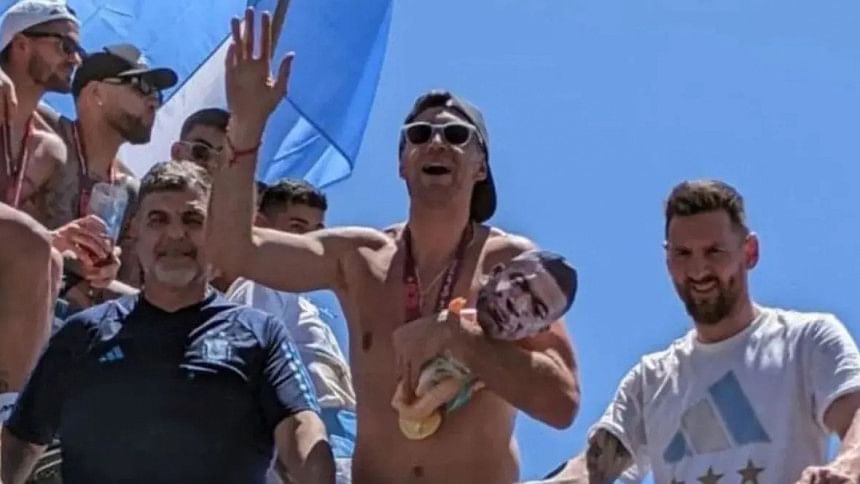 Argentina's World Cup winning goalkeeper Emiliano Martinez will spend 11 hours in Dhaka today en route to Kolkata, but will not make any public appearance.
The 30-year-old goalkeeper is scheduled to arrive in Dhaka from Amsterdam at 4:40am on Monday and leave for the West Bengal capital at 4:10pm in the afternoon, confirmed Satadru Dutta, the chief of Satadru Dutta Associates who are bringing the Argentine to the subcontinent
The Aston Villa No. 1, who made a last-ditch save against France before saving a couple of shots in tiebreaker as Argentina beat France to win their third World Cup in Qatar in December, 2022, will also visit the Dhaka office of NEXT Ventures, a digital business group, in the morning.
"The trip will be very short. He will attend a programme at the office of NEXT Ventures and then will go to meet the PM at her office before leaving the country in the afternoon. There will be no public appearance," Dutta, who is scheduled to arrive in Dhaka tonight, told The Daily Star over phone.
There will, however, be a few selected guests at the Next Ventures event including former national cricket team's captain Mashrafe Bin Mortaza and state minister for information and communication.
At a press conference at the NEXT Ventures office on Sunday, its CEO Syed Abdullah Zayed said, "We already have a collaboration with Emi Martinez. He will be going to Kolkata, and therefore has accepted our invitation. But unfortunately he will not participate in any public event here as he will spend only a few hours here after a 38-hour journey."
According to the company officials, the Argentina goalkeeper may participate in activities such as photoshoots and short interviews at the programme. A limited number of political figures, sports persons and other dignitaries will be present, they informed.