Nagelsmann lauds defender De Ligt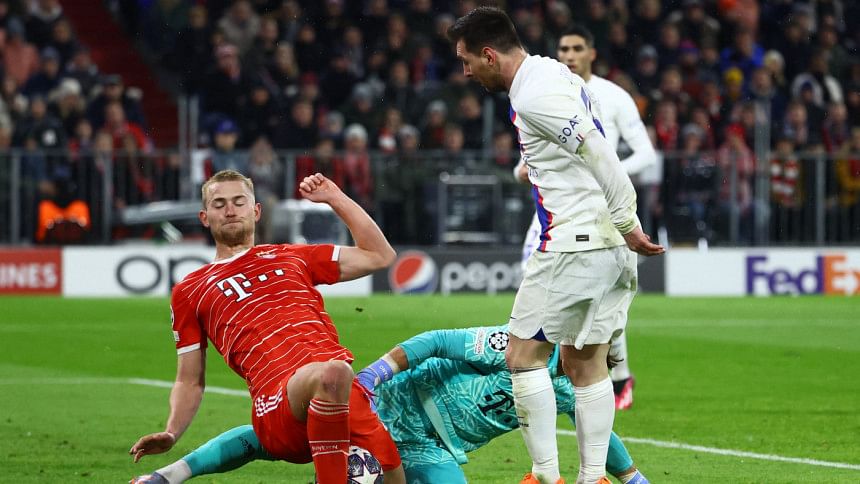 Bayern Munich coach Julian Nagelsmann said Matthijs de Ligt "rescued" his side after the Dutch defender made a vital goalline clearance against Paris Saint-Germain to help the Germans qualify for the Champions League quarter-finals on Wednesday.
Bayern won 2-0 on the night to advance 3-0 on aggregate, but the tie was in the balance in the first half when De Ligt scrambled Vitinha's shot to safety after goalkeeper Yann Sommer was caught trying to dribble out of his own area.
Goals in the second half from Eric Maxim Choupo-Moting and Serge Gnabry then secured Bayern a spot in the last eight.
Nagelsmann was not best pleased with said Sommer's risk-taking but chose instead to praise De Ligt's game-changing intervention.
"Yann obviously has a good connection with Matthijs," Nagelsmann quipped. "Nine out of 10 defenders in the world would have left that because they thought it was already in."
"It was an unbelievable play. He (De Ligt) loves to defend and hates to concede goals," Nagelsmann added.
"Mistakes happen, but thankfully we have a defender who rescued us."
Sommer, who arrived in Munich from Borussia Moenchengladbach in January to replace the injured Bayern captain Manuel Neuer, said: "It was outstanding how he rescued me.
"If that went wrong then the game would look different, so we were lucky."
The Switzerland goalkeeper joked that he had a special reward in mind for De Ligt.
"I've told him before once or twice that there'll be a block of Swiss chocolate sitting on his doorstep for his efforts," he said.