Messi saw something in Brazilian Arthur Melo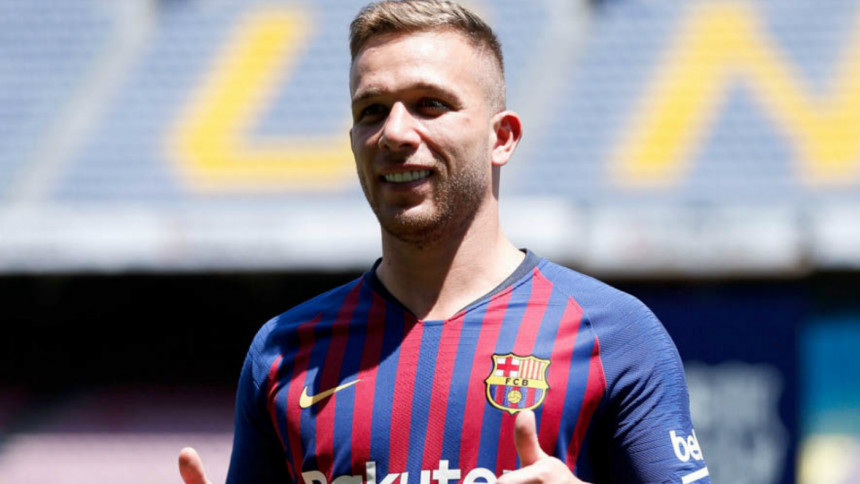 There have been a lot of clamouring for an 'organizing midfielder' at Barca even with the presence of Ivan Rakitic after midfield maestro Xavi Hernandez moved to Qatar. Xavi was the cornerstone of everything that Barcelona did on the pitch and as the team's 'metronome' he dictated the tempo with which the team will play.
Stylistic and idealistic changes came thick and fast even during Xavi's last few seasons at Barca. The midfielder was still as brilliant as ever but injuries and aging feet no longer allowed him to play as frequently as he used to. Barco looked to the market, trying to bring in Marco Veratti from PSG but failed miserably while Neymar went the other way.
Without a midfielder who can organize, Barca floundered in key Champions League matches in the last three seasons. However, their search may be over due to the inclusion of one Brazilian midfielder Arthur Melo this season. Aged only 21 and with only a year since his competitive debut, Arthur joined Barcelona from Brazilian club Gremio for 30 million Euros in July.
Arthur grew up watching Xavi and Andres Iniesta: "They are the 'mirror' I look in," he said. Role models, an aspirational image. It was their intelligence that struck him, Arthur says, the turn. He practiced it in the hall of his house, knocking the ball against the wall, controlling and changing direction in one go.
Those qualities were on show on Wednesday as Barcelona outplayed Tottenham at one of their spiritual homes, the Wembley -- where they won their first ever European Cup under Johan Cryuff before their Champions League win over Sir Alex Ferguson's Manchester United in 2011.
Wearing the number 8 which used to be worn by Barca's former midfield maestro, Arthur might have even fooled the audience into thinking that Xavi was there on the pitch against Tottenham. Not as brisk as Xavi technically, there was somehow that familiarity in his style that would make any cule nostalgic.
There were quite a few Xavi-like pirouettes where he turned in an arc until the opponent has gone, wriggling free as passing avenues opened. The fans realized that there search for a midfielder of the Xavi profile may just have come to an end but team's talisman Lionel Messi saw it first.
"If I have to mention one of [the new signings], I'd say Arthur, who has surprised me because I didn't know much about him," Messi said in the summer. "There are differences, but he has a style very like Xavi's: he always wants the ball, he doesn't lose it, he plays it short, he's very reliable, very secure."
"He grasped the training sessions very quickly and the idea of a short game," Messi said. "That's something that tends to be hard for those who come from outside, but he grasped it fast. He has the style they have always looked for at this club."
Xavi was a quick thinker and Arthur seems to have some of the same qualities and the former midfield maestro had noticed too when after Arthur arrived at Barcelona. Xavi said: "He's a footballer who is perfectly adaptable to Barcelona, he has what we call the Barcelona DNA, that technical quality, the talent necessary to be a success. In terms of his qualities, I don't have any doubt that he could be a great player for Barca. He has all the qualities you need for that."
"It's like he came out of La Masia," Marca wrote and Arthur himself was happy to be compared to the legendary Barca man. "I've always admired Xavi and it makes me very happy to be compared to him because he was Barcelona's constructor," Arthur said.
The excitement is understandable from media and fans. Afterall Barca have been desperate for this gap to be filled. While there is never going to be another Xavi Hernandez, in Arthur, Barca might have someone who can help them set their game straight once more.