Jibon, Shohel likely to be sidelined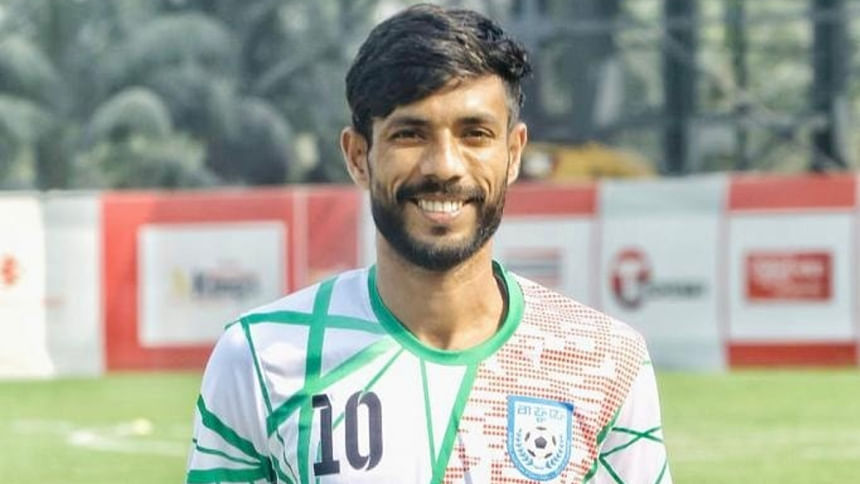 Country's top striker Nabib Newaj Jibon and experienced goalkeeper Shahidul Alam Shohel are likely to be punished again for the disciplinary ground as the preliminary squad of national football team ahead of two FIFA friendlies is supposed to be disclosed today without the Abahani duo.
Ahead of next month's two matches against Cambodia and Nepal, Spanish coach Javier Cabrera has already placed a 27-member preliminary squad to the local's game governing body for the final approval as the residential camp is scheduled to get underway on August 26.
Jibon was dropped from the preliminary squad of the Asian Cup Qualifiers following his act of reporting to the team manager just an hour before the first training session. Meanwhile, Shohel did not turn up for the camp after informing the goalkeeping coach, citing injury but later provided the medical documents of his severe groin pain that took him four weeks to recover.
In the recently concluded season, Jibon was the top scorer among the local players by scoring nine goals – five goals in the league and two goals each in Independence Cup and Federation Cup.
Abahani's Shohel, on the other hand, has been a long-serving experienced goalkeeper of the national team and is still considered the second-best goalkeeper after Anisur Rahman Zico.
According to a source within the BFF, the 37-year-old Spanish coach does not want to recall either Jibon or Shohel, citing disciplinary grounds. However, others smelled something fishy behind this move.
When this reporter communicated with Jibon and Shohel, the duo informed that the federation did not communicate with them until yesterday but a few players, who were not part of the national team during Asian Cup Qualifiers due to injuries, have already received text messages to join the national camp.
Interestingly, both Jibon and Shohel replied to the show-cause notices served by the BFF but the board did not take any further actions against them. Thus, the duo's status in the matter was not clear.
The BFF general secretary, Abu Nayeem Shohag, said: "The national teams committee discussed Jibon and Shohel at that time and instructed them to make the players more aware by communicating with the players directly, so that they don't hesitate [to communicate] in future.
"The coach will place his preliminary squad for the final approval from the national teams committee, which can give its opinion about the squad if it has any observations."