Goal against Seychelles was planned: Tariq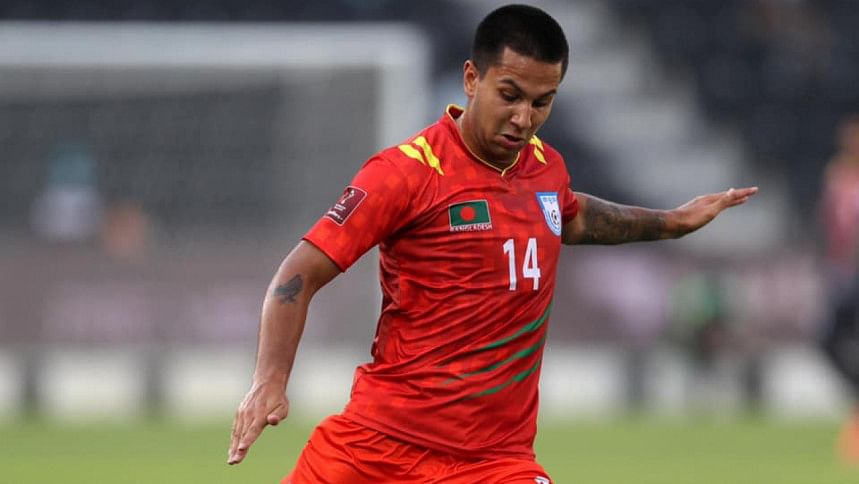 Bangladesh defender Tariq Kazi was elated to have netted his first international goal for the red and green when he headed home the only goal that made the difference in Bangladesh's win over Seychelles in a FIFA friendly at the Sylhet District Stadium on Sunday. 
Tariq delivered a thumping header after the ball kindly found him following a deflected clearance by a Seychelles defender inside the box minutes before half-time. 
While it seemed that the 22-year-old was fortunate to have met the ball on his run towards goal, Tariq asserted that it was a matter of doing what he had intended to do inside the box, saying that the strike, which brought Bangladesh their first win over an African side, had nothing to with luck but all to do with planning.
"It [goal] wasn't a lucky strike because I did what I was supposed to do, so I don't think it is a matter of luck, it was a matter of planning," he told the reporters on Sunday.                   
"It was a special moment and I am very happy because my dream came true. When I go to a match, the important thing is to keep a clean-sheet and to score a goal is a plus point," he added.
Bangladesh's triumph over 199-ranked Seychelles came after they had gone through a rough run of results but an optimistic Tariq said the team under Javier Cabrera has a plan and is working in tandem to improve.
"Obviously it has been a difficult time but the plan is quite clear with Javier [Cabrera]. As a team, we know what we want to do and we are working hard each day to achieve the goals. At the moment, I am happy with how the future looks like," Tariq told the reporters after the practice session at Sylhet District Stadium today.
The Bashundhara Kings defender also believes football has changed a lot and anyone can contribute to a team's triumph.
"Football is a complicated game nowadays and anyone can score goals from different situations, including set pieces and from open-play. Football has changed a lot nowadays," opined Tariq.
Tariq admitted that his personal life has also seen some changes as he feels that life in Bangladesh has gotten easier for him now compared to how it was when he came from Finland in 2020.
"There have been big changes in myself actually. In my opinion, I have adapted to the environment well. When I came here it was all new to me but I slowly got used to the things around me. Everyday life is much easier now," said Tariq, who is also looking forward to putting up a better display in the second friendly match on Tuesday against the same opposition.