Friendly matches against Afghanistan in Sylhet?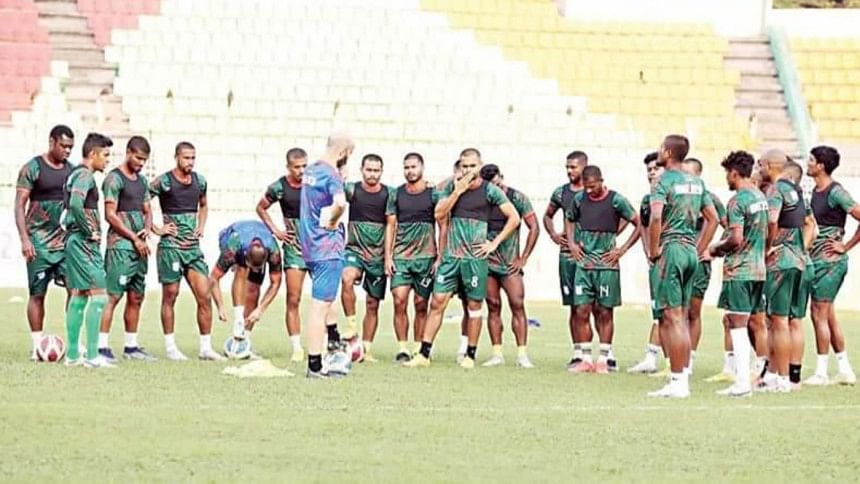 Bangladesh national football team are likely to play two FIFA friendly matches against Afghanistan at home in September even though two more teams – Myanmar and Nepal – are also in Bangladesh Football Federation's consideration. There might be a trimming of the list of probable oppositions during a meeting of national teams' committee (NTC) today.
As part of the national team's preparation for October's first round of World Cup Qualifiers against Maldives, the National Teams Committee is committed to provide an ideal platform of preparation by arranging two friendly matches in September's 4-12 window.
The national team will begin their preparation for the Qualifiers on August 20, soon after the international engagements of Bashundhara Kings and Abahani in the middle of August, leaving the charges of Javier Cabrera for the two friendly matches with two weeks' preparation.
"We have not decided on the opposition yet. We have a meeting tomorrow and it is not that we will take the final call there.We have been discussing with Afghanistan, Nepal, Myanmar and a few other countries for the friendly matches but have not confirmed them yet," NTC chairman Kazi Nabil Ahmed told The Daily Star yesterday.
With Afghanistan having expressed willingness to visit Bangladesh, the likelihood of playing the former SAFF country is more than the other teams. Nabil said, "There is a possibility to play [against Afghanistan] but we will take the final decision after discussing the matter with the head coach [Cabrera], which is what we always do."
The game's local governing body is trying to arrange two matches even though the NTC initially wanted to host a tri-nation tournament in September.
"Our target is to hold two matches. The committee was initially considering whether we can host a tri-nation tournament but most of the teams wanted to play two matches, so the initial thought was dropped and we are planning to hold two matches at home," informed NTC member Satayjit Das Rupu.
Nabil also informed that they are looking forward to holding the matches in Sylhet as Sylhet District Stadium is currently the only available venue that is recognised to host international football matches for senior men's football.
"We are thinking of the hosting the matches at the existing venue – Sylhet District Stadium," Nabil said. "Bangabandhu National Stadium is not currently available and we don't even have any information about the venue. However, we may enquire about it."
Sylhet District Stadium is currently hosting an inter-university football tournament, which was scheduled to end yesterday. Abahani are supposed to take over the ground ahead of their AFC Cup match against Club Eagles on August 16.
"It is important to have seating arrangement at a venue to host international matches, but the BNS is currently going through renovation work. FIFA won't allow holding matches without chair-seating arrangement," Rupu said. "The ground at Sylhet is not a bad one as an inspection was made there on July 26. After the completion of the inter-university tournament, the ground will be prepared for the August 16 match."