Dortmund's moment of truth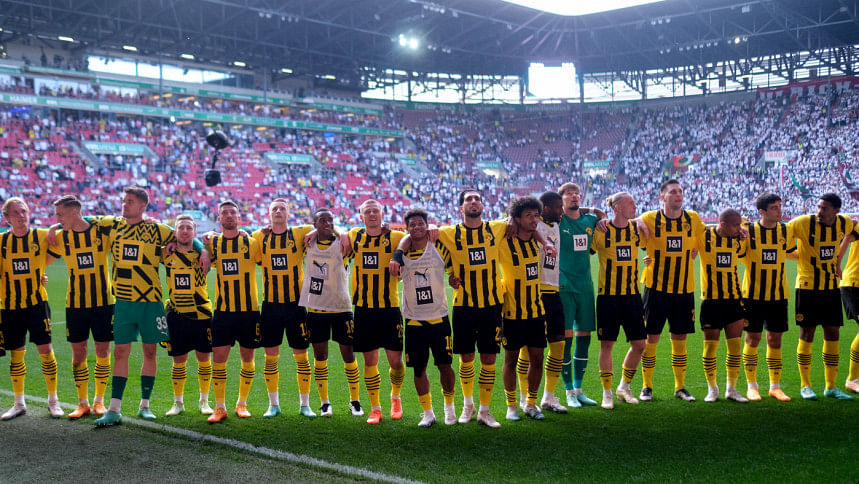 The stage is set in Dortmund for the most dramatic Bundesliga finale in more than a decade with Borussia fans desperate to see the team win their first league title in 11 years on Saturday against visitors Mainz 05.
The Ruhr valley club, who last won the Bundesliga under then coach Juergen Klopp in 2012, are one win away from making sure they end Bayern Munich's decade-long stranglehold on the German championship in front of a sold-out 81,000 home crowd on the last matchday of the season.
Star-studded Bayern have had the title in their bag well before the end of previous seasons, but this time, their slip-ups and Dortmund's persistence are keeping the suspense going to the final whistle.
Dortmund are two points clear of Bayern Munich going into the last game and know that a draw or even defeat might still be enough to secure the title depending on Bayern's result in Cologne.
But in Dortmund there is no goal other than to win. A win over mid-table Mainz will certainly secure their first Bundesliga title since 2012, while Bayern can claim their 11th straight Bundesliga title with a win at Cologne -- but only if the leaders slip up.
Dortmund coach Edin Terzic called on his side not to lose focus, with one game to play.
"We're not done yet, but we're ready to take the final step," Terzic said, "As a team, as a club, as a city."
Terzic was called "the best Dortmund coach since Jurgen Klopp" on Thursday by Germany's Sueddeutsche Zeitung newspaper, putting the 40-year-old ahead of Bayern boss Thomas Tuchel.
Meanwhile, Dortmund could miss Jude Bellingham for the title decider as the midfielder is in a race against time to be fit for Saturday's match. This could be the last game in a Dortmund shirt fir Bellingham, who missed Dortmund's 3-0 win away at Augsburg on Sunday with a knee issue.
A win for Dortmund would also mark the biggest success of captain Marco Reus' long and injury-plagued career, with the 33-year-old being one of the most gifted players of his generation but having so far failed to win a league title.
"What he has always been accused of is that he has never won the championship," said Dortmund sports director Sebastian Kehl, captain of the 2012-title winning team. "He feels sorry for that and he will do everything that we are champions on Saturday, but also for him."
The atmosphere could not be more different in Munich, where Tuchel, whose team suffered a shock 3-1 home loss to RB Leipzig last week to surrender the lead in the title race, is trying to convince his players that all is not lost.
"I have no message for Dortmund. We have our own work cut out. We have slipped up too many times," Tuchel told a press conference.
"We will now try to finish the race and give it all but it is not a season anymore that is satisfactory. We don't have to look over to the other game because for us it is clear that first we have to win our game."
Writing on Instagram, Mueller -- who has been a key part of the Bayern team that has won the last ten Bundesliga titles -- told his 12.8 million Instagram followers "everything is still possible".
And Bayern are no strangers to dramatic title wins - in 2001 they bagged a stoppage time goal on the final day of the season to snatch the title from Schalke 04.
Ruling the Bavarians out, even on the last matchday, is a risky business.