Chinese pitch invader detained after hugging Messi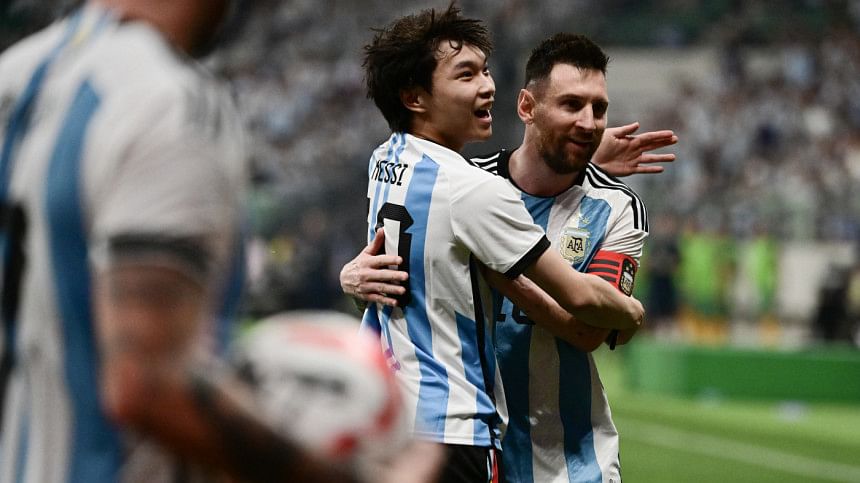 Chinese police detained a young football fan and barred him from stadiums for a year after he invaded the pitch and embraced Lionel Messi during an Argentina-Australia friendly in Beijing, authorities said Friday.
The jersey-clad man ran onto the pitch at the Worker's Stadium midway through the match's second half on Thursday night and scored a hug from his idol before being chased down by guards.
The crowd roared and clapped at the man's antics, but police were not amused.
"The Chaoyang District public security bureau has already imposed administrative detention on him in accordance with the law," police said in a statement on Friday, identifying the 18-year-old by his surname Di.
Police ordered Di not to attend matches at stadiums for the next twelve months.
"Di also expressed remorse for his actions and accepted the punishment from the public security organ," the statement added, without specifying how long Di had been detained or whether he had been released.
Messi is idolised in football-mad China, where the underperforming national team and struggling domestic league are chronic sources of disappointment.
More than 50,000 people in Beijing braved the searing heat on Thursday to watch Messi lead his team to a 2-0 win over the Socceroos.
Many donned replica shirts bearing Messi's name, while others wore blue-and-white face paint and waved miniature Argentina flags.
Hundreds of fans had massed outside the team's luxury hotel earlier in the week and lined heavily guarded streets in the hopes of catching a glimpse of their hero.
One fan told AFP he had hidden inside the janitor's closet at the Argentinian team's hotel hoping to get close to Messi.
He was caught and questioned by hotel security before being released.