Cabrera hopes for competitive show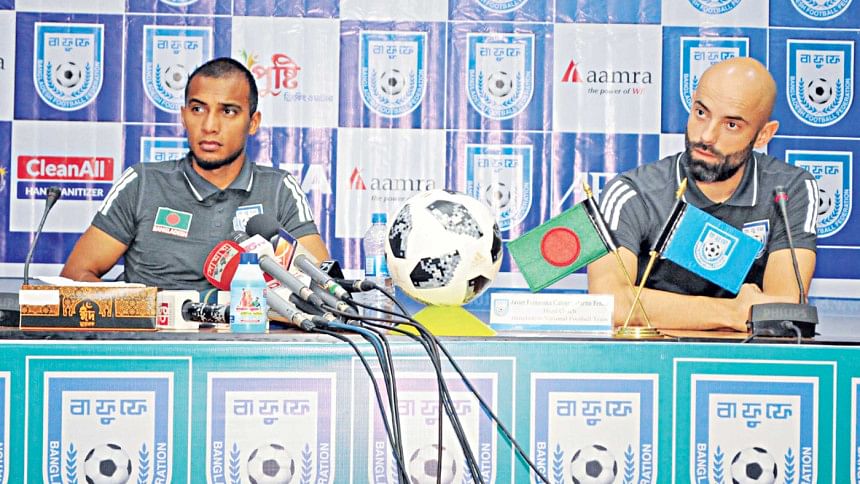 Bangladesh coach Javier Cabrera promised nothing more than a competitive showing in the upcoming Asian Cup Qualifiers after the national football team was decimated by injuries to eight top players in their 23-member squad.
The team was scheduled to fly for Indonesia in the early hours of today ahead of their international friendly against Indonesia on June 1. They will then travel to Kuala Lumpur ahead of the start of their Group E fixtures. The other teams in their group are Bahrain, Turkmenistan and hosts Malaysia.
Cabrera did not hide behind the fact that top players like Tapu Barman, Tareq Raihan Kazi, Masuk Mia Jonny, Suman Reza, Matin Mia, Saad Uddin and Hemanta Vincent Biswas will be missing through injury while Nabib Newaj Jibon will serve out a suspension.
At the same time, he did not promise good results. He only said their aim was to be competitive.
"I am not thinking of something magical. I think we have to be focused on ourselves every single day, every single training. I am not talking about matches. That's the way we want to compete against the higher-ranked teams [in the Asian Cup]. We need to fight for every single action, every minute and every training session," Cabrera said at a press conference yesterday.
"The match against Indonesia is a preparatory game. For us, Indonesia fits very well with what we are going to face [in the Asian Cup Qualifiers] in Malaysia. The match is going to be like a probe. We will use it to gauge whether we are going to be ready to develop our game plan in Malaysia.
Our main objective is to prove that we can compete against Indonesia. That's going to be a great boost for us ahead of Malaysia," added Cabrera, who has overseen two national team games. Bangladesh suffered a 0-2 defeat to Maldives in the first before playing out a goalless draw against Mongolia.
Captain Jamal Bhuiyan was optimistic after new players, such as Papon Singh and Sazzad Hossain, had joined the team and trained together for 10 days.
"Of course, the players missing from the squad are big names in our domestic competitions. But those who are coming into the squad will give more than a hundred per cent effort. I believe the new players can also make difference in the team," said Jamal.
"We were able to understand his concept and how we have to play, how we have to press, how we have to defend and how we want to attack. The last 10 days have been very good for both senior and new players. So, it has been very good camp and we all are looking forward to the game against Indonesia. Afterwards we will talk about Qualifiers," said Jamal.