In Brazil, Vinicius' hometown shares his pain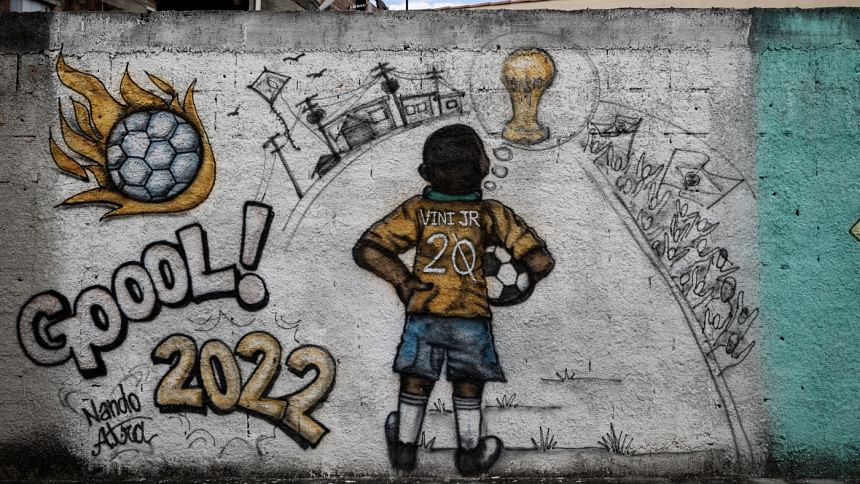 Taking a break from training beneath a giant poster of Vinicius Junior, on the same pitch where the Real Madrid star got his professional start, Pierry Amaro Ricardo has a word for the racism his idol endures.
"It's inhuman," says the 18-year-old Brazilian football prospect.
Like all the boys chasing the ball around the rectangle of green artificial turf at the Flamengo youth academy in Sao Goncalo, a poor city outside Rio de Janeiro, Ricardo dreams of following the same meteoric path as Vinicius, who started out here before signing with Real Madrid at age 16.
But the young midfielder fears black players like him will only continue to face the kind of treatment Vinicius received Sunday at Valencia, where the 22-year-old superstar was targeted with shouts of "monkey" from the stands -- the latest in a series of racist attacks against him.
"It's getting worse and worse," says Ricardo, who plays in the youth system of Flamengo, Brazil's most popular football club.
"Some people think it's normal. We're judged by the color of our skin. My mom's always told me since I was small, 'black people have to be twice as good,'" he told AFP.
"That's just the way it is. I'm going to come out on top anyway."
Staff at the youth academy, Escola Flamengo, speak of their heartbreak at seeing the treatment endured by Vinicius, whom they remember as a sweet boy and model student who captured everyone's hearts.
"He was just a sensational boy, very respectful and dedicated. He was our stand-out, on the pitch and off," says Monique Monteiro, 32, who works at the academy's front desk.
She speaks almost in awe of watching "Vini" escape a childhood of poverty and the rough streets of Sao Goncalo -- a working-class city across the bay from Rio -- to make it to the pinnacle of professional football.
"It wasn't easy for him. He did it all with his own sweat... and a lot of support from his family," she told AFP.
"For people like me who have watched his whole career, all he went through to get where he is, it's very sad. Seeing him suffer like this is so infuriating."
'Our support and solidarity'
The footballer whose full name is Vinicius Jose Paixao de Oliveira Junior grew up in a small house at the end of a dead-end street in an impoverished Sao Goncalo neighborhood that butts up against the BR-101 highway.
Even after becoming one of the world's biggest football stars, he has maintained a strong connection with his hometown.
His family still lives in the same house -- now expanded and lavishly renovated -- at the end of a run-down street whose graffiti includes a mural of Vinicius in his Brazilian national team jersey, dreaming of winning the World Cup.
Locals say the footballer has given back to his community extensively, including through his Vini Jr. Institute, a charity that seeks to help kids do better in school with innovative programs that tap both technology and Brazilians' national passion for football.
The city government posted a message for its hometown hero on social media.
"Sao Goncalo and Brazil are proud of you," it said.
"All our support and solidarity to you."
A flood of Brazilians from President Luiz Inacio Lula da Silva to music icon Gilberto Gil and fellow national team stars Neymar and Richarlison have also sent their support.
In downtown Sao Goncalo, residents are animated as they talk about their disgust at the latest episode.
"It's just absurd, calling the boy a monkey. It just defies logic," says 62-year-old Marcia Maria da Costa, selling football gear at a local street market, where vendors say demand for Vinicius jerseys is huge.
Phone vendor Victor Gabriel Ferreira, who grew up in Vinicius's neighborhood, voiced outrage at the succession of racist scandals engulfing him.
"Brazil and the world can't stand to see a black man from the favela rise to the top of the best players in the world," he said.
"And that's what he is."