Booters look for positive start in Hangzhou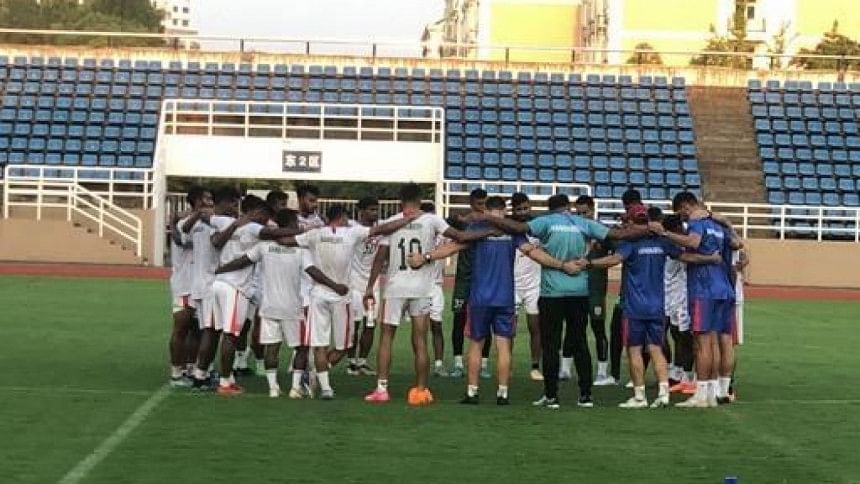 Though the curtains of the 19th Asian Games will rise on September 23, the football event gets underway today, with Bangladesh playing against cross-border rivals Myanmar at the Xiaoshan Sports Centre Stadium at 2:00pm Bangladesh time.
The Bangladesh team were fully focused in training yesterday, crossing the deadline of a one-and-a-half hours at the Dianzikeji University Stadium ahead of today's opening match.
Standing on the gallery of the beautiful stadium, Bangladesh coach Javier Cabrera shouted instructions to his players to switch their respective positions in off-the-ball situations before conducting a session on how to utilise set-pieces.
"Just pray for us so that we can perform well," was the feedback of winger Rabiul Hasan on way back to the team bus.
While Cabrera declined to speak to the media, assistant coach Hasan Al Mamun briefed about the match.
"Some of our players were in Thailand (with U-23 squad) and joined the team just the day before our departure. Besides, we could add only two senior players instead of three as some players from Bashundhara Kings and captain Jamal Bhuiyan could not join due to club commitment," Mamun said. "With these young players, we are looking to gain international experience. Against strong sides like Myanmar, India and China, it will be a test for our boys as to how they perform in line with our plan."
Mamun, however, said they would take on Myanmar, ranked 29 places above Bangladesh, analaysing whatever information they have.
"We have studied the tactical side of Myanmar, who must have also studied us. We observed the way they play and their key players. The players know that if we can produce a good result, the group will open up for us. Apart from top two teams from each group, four best third-place finishers will also advance to the next round," added Mamun.
Though forwards Sheikh Morsalin and Rakib Hossain were the architects of senior team's good performance in recent past, the assistant coach believes it is time for other forwards like Faisal Ahmed Fahim, Suman Reza and Jafar Iqbal to prove that they are not less important.