Abahani bank on new foreigners in AFC Cup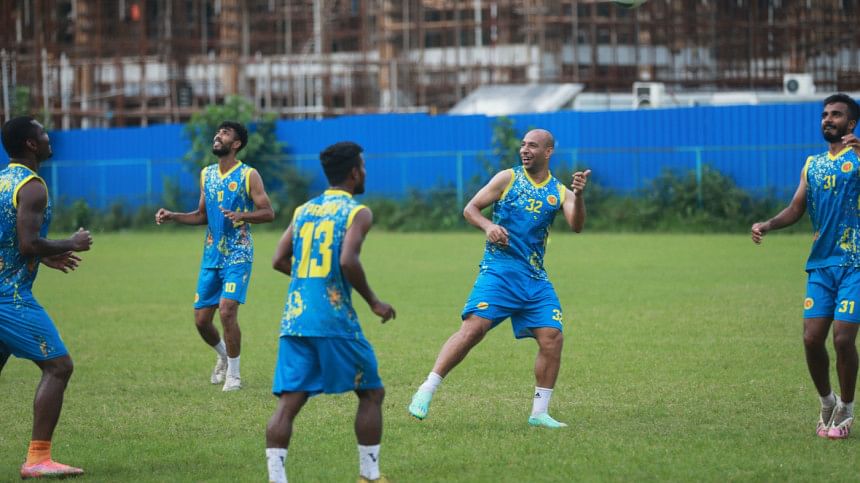 Abahani were the first Bangladeshi club to progress into the inter-zonal semifinals of AFC Cup in 2019 but struggled in Asia's second-tier club competition ever since.
In last three editions, six-time Bangladesh Premier League (BPL) winners failed to get out of the preliminary round or play-off stage after falling prey to either Maldivian or Indian outfits.
Bashundhara Kings had booked a spot in the group stage of South Asian zone on virtue of being BPL champions. Abahani, meanwhile, as the Federation Cup champions or league runners-up, got a chance to compete in the group-stage qualifiers.
Maldivian outfit Club Eagles stand in the way of Abahani in the second preliminary round. If the Sky Blues cross that hurdle, they could face Mohun Bagan in the play-off match.
A new rule which allows six foreign players in an AFC Cup match is providing optimism for Abahani to fare better this time around. Coach Mario Lemos, however, sees the down side as well.
"New signing does help the club. We are getting five new foreign players but not much time because all of them are from different clubs, like Sheikh Jamal, Mohammedan SC, Chittagong Abahani," Lemos told The Daily Star yesterday.
"They now need to adapt to the way we want to play and build the connection with new players. It is about me getting to know the players and trying to use them in the best possible ways."
With last season's Daniel Colindres, Peter Norah, and Raphael Augusto unavailable, the Sky Blues retained the services of two foreigners: Syrian defender Yousef Mohammad and Nigerian Emeka Ogbogh.
The Dhanmondi-based outfit have five new signings in Caribbean forward Stuart Cornelius from Sheikh Jamal DC, Uzbek midfielder Muzaffar Muzaffarov (Mohammedan SC), Nigerian forward Ifeagwu Ojukwu David (Chittagong Abahani), Egyptian midfielder Mostofa Mahmoud Kahraba (Chittagong Abahani) and Brazilian defender Danilo Augusto (Fortis FC) for the preliminary round.
Abahani started their preparation for the AFC Cup on July 29 in Dhaka as the match was billed for August 16 in Sylhet.
Forward Nabib Newaj Jibon believes they "have an advantage of playing on home ground amid familiar conditions".
Asked whether they would struggle to adjust with new foreign players, Jibon reckons they would gel easily because of the familiarity of having played against each other in the league.
Lemos, who guided Abahani in 2019, said: "I think this time we have an advantage of playing six foreigners since Maldivian players are slightly better than Bangladeshi players, technique-wise.
"Maybe they [Club Eagles] don't have six foreign players at the moment and I don't know whether they are going to sign more foreigners. I think foreigners will make the difference in the game and whoever have the best ones, they can succeed."