Liverpool smash Spartak for seven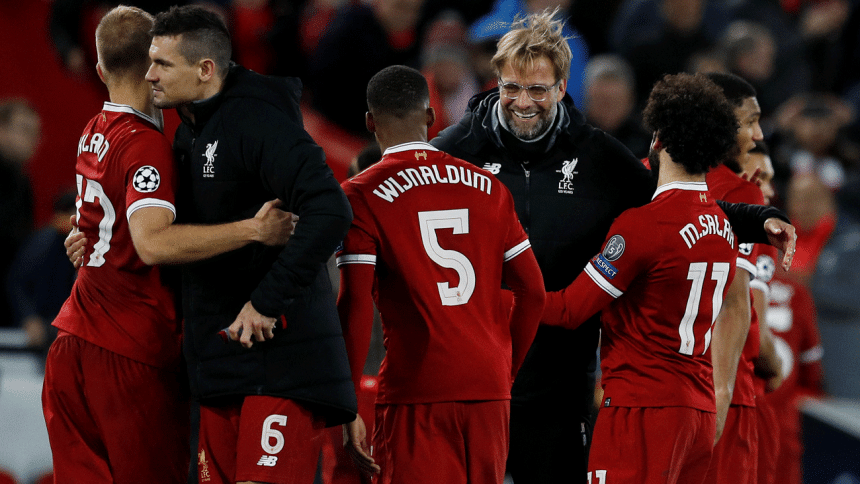 Liverpool manager Juergen Klopp's philosophy that attack is the best form of defence paid off handsomely on Wednesday as his four-pronged attack hammered Spartak Moscow 7-0 at Anfield.
The second 7-0 win of the Group E campaign, following the thrashing of Maribor in Slovenia, was a reminder of the devastating potential of his "Fab Four" attack.
Philippe Coutinho, playing just behind the forward line, struck a hat-trick while Sadio Mane, operating on the right flank, scored twice.
Effervescent Egyptian Mohamed Salah was also on target as was centre-forward Roberto Firmino as Klopp's side simply out-classed the Russians.
"Nobody could imagine that it would go like this tonight. Spartak Moscow is a really good side, I know you won't think so now but they are difficult to play against. We opened the game perfectly and after we took the lead we didn't have to defend. It was a nice night," Klopp said.
"It helps to get an early goal or two. I told them at halftime we needed to show that we learn from our mistakes and keep going," he said, in reference to the 3-3 draw in Seville in which the Reds gave up a 3-0 lead.
This time there was no relenting as Liverpool turned it on in the second half, their attack showing a level of understanding and incisiveness that will make potential rivals in the last 16 take notice.
"It's really difficult when we go to the next gear and use the space, it was nice to watch tonight," he said.
Asked if he felt his attack would be viewed as a major threat, Klopp applied the brake to his enthusiasm.
"If we perform like this, in these moments, if we are that clinical, then yes. But we had the same players already and didn't score. If they perform like this then it is obviously a threat," he said.
But Klopp dismissed the notion he had played an ultra-attacking line-up, saying that Mane and Coutinho were given essentially midfield duties.
"They were proper midfielders, they had to defend. Phil and Sadio….they had a clear structure, having Roberto running everywhere and Mo between the lines. I said before the game, the best way not to lose is to win and that is what we tried," he said.
But is such an approach capable of working against the top teams in the Premier League?
"I don't think the Champions League is easier than the Premier League," said Klopp.
"Of course if you play (Manchester) United….and the weekend (against Everton) will be different already, we will have the ball much more for sure, but it's not too offensive or too defensive. The approach is not the thing, it is what we do with it," he said.