'Messi's shorts could swallow him'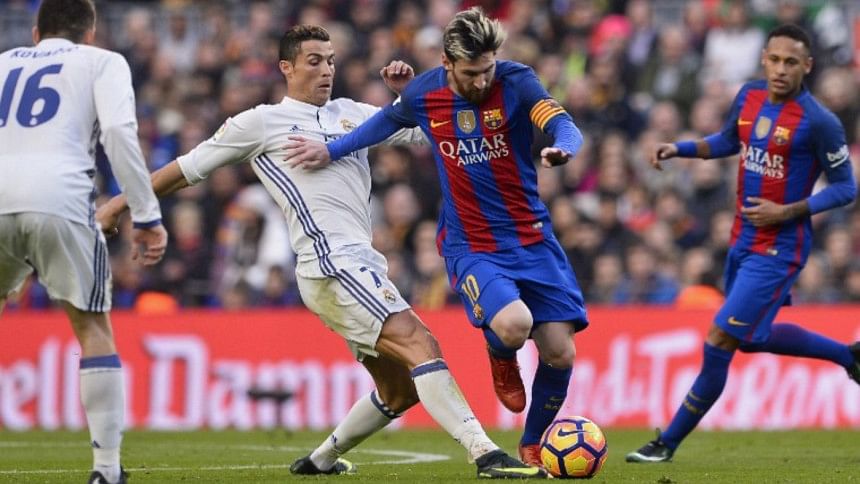 Former Barcelona manager Terry Venables believes that despite Lionel Messi's small build, the Argentine remains the finest performer in the world of football.
The former England player and then manager said that Messi's long-time rival Cristiano Ronaldo is a beast of a player who is like a gladiator. Venables understands that Cristiano Ronaldo has the physical build, power and showmanship that allows him to perform and stay in competition with the Argentine who he has hailed as a genius. This year Mohamed Salah has announced his claim for a Ballon d'or as the Liverpool star keeps banging in the goals for Liverpool. For Venables though, Salah is still far off from Ronaldo and Messi.
"Look, if we're in the playground now and we are picking sides, you could pick between Salah, Cristiano Ronaldo and Lionel Messi, Salah would be third pick.
"A good third, mind. Cristiano with his muscle and showmanship, like a gladiator. Power. He's some player. But it would still be Messi as No. 1 for me," Venables said in the Daily Mail.
Venables had previously compared Messi to Jimmy Greaves, who was just as nonchalant with his talent on the football pitch. Venables had described Messi as an 'Artful Dodger' who can be thought of as a character created by famous author Charles Dickens.
"Those shorts of his look like they should swallow him. He's like a Dickensian character. But he's a genius with a ball. I'd pick him as No. 1 every time."
The former England man also had words of praise for Pep Guardiola and wished that Liverpool manager Jurgen Klopp can win the Champions League this season.
"He doesn't need me to tell him what to do because this man is special. But I would like to see him stay, to win more trophies, to create a dynasty," Venables said of Guardiola.
"He is faultless as a coach. Faultless. As a coach, as a teacher, as a man.
"People say he has won because he has been at Barcelona, Bayern, now City, but you can't just buy titles and success, not playing the way his teams play. Long may it continue.
"[Jurgen] Klopp too is impressive. He could win the European Cup and I do hope this happens. He's behind Guardiola, but so is everyone else.
"Pep is a giver, a leader of the orchestra. I hope everyone can see that and appreciate it. I am thrilled to watch him succeed, it completes the set for him," he concluded.