Kane's Champions League rise faces Real acid test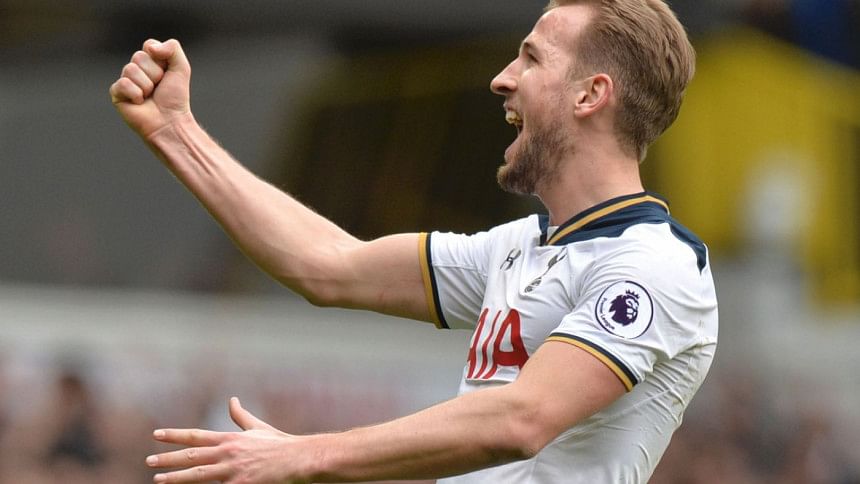 Harry Kane is an admitted follower of Cristiano Ronaldo's stratospheric stats as he pursues the Portuguese's status as the best in the world, but for once it is Ronaldo who trails in the race to be the Champions League's top marksman.
An inspired Kane has transformed Tottenham Hotspur's European form from last season's failure to a flying start with five of Spurs' six goals in victories over Borussia Dortmund and APOEL Nicosia.
The acid test for Kane and his teammates comes at the Santiago Bernabeu on Tuesday night where holders Real Madrid and Ronaldo lie in wait having dismissed Dortmund and APOEL themselves thanks to four goals from the World Player of the Year.
"For sure it is a chance to measure ourselves. We are facing the best team in the world," Spurs boss Mauricio Pochettino told Spanish radio station COPE this week.
"We are a young team with many internationals, but not so much experience of playing these type of games. It is a fundamental test."
Pochettino has fallen head over heels for Kane, conceding his wife was jealous of his repeated declarations of "love" for the English international.
"He is one of the most in-form strikers in the world for sure. The numbers speak for themselves," added Pochettino.
Numbers are so good they've drawn comparisons with the two men that have taken goalscoring to previously unseen levels in the past decade - Ronaldo and Lionel Messi.
Kane's 13-goal haul in September matched the best ever goalscoring month by Messi or Ronaldo.
"I want to be one of the best players in the world, so when people put stuff up and I see I am close to those players it is a great incentive to get even closer and go to the next step," Kane said after netting his sixth hat-trick of the season to slay APOEL in Cyprus.
- Time on Kane's side -
At just 24, Kane has time on his side but far more to prove not only to reach the heights set by Ronaldo and Messi, but also the consistency they have shown in sharing the last nine World Player of the Year awards.
"Staying consistent at the top level is what it's all about," added Kane.
Despite Spurs' rise in recent seasons under Pochettino, consistency has been a shortcoming that has so far starved them of silverware.
Spurs' inability to make any impact as they crashed out of both the Champions and Europa League at the first hurdle cast a shadow over another encouraging season as they finished runners-up to Chelsea in the Premier League.
Kane's absence through injury for half of that Champions League campaign took its toll.
The gulf between Spurs and their hosts on Tuesday night remains Real's strength in depth that meant even Ronaldo could enjoy plenty of rest on their road to a La Liga and Champions League double last season.
Pochettino and Spurs can't afford that luxury. Kane has scored 55 percent of his side's goals in the Premier League and Champions League this season.
"He has a great ability to sore goals and an incredible determination," added Pochettino.
"He is a great professional who is always looking to get better.
"In the next 10 years he is going to be among the best strikers in the world because he has that determination on top of his quality."
Quality that hasn't gone unnoticed in the Spanish capital.
Spurs know very well how tempting the lure of Real's riches and prestige can be having lost Luka Modric and Gareth Bale to the Bernabeu in recent years.
And with Real having failed to replace the departed Alvaro Morata with Kylian Mbappe, who instead headed to Paris Saint-Germain in August, Madrid sports daily Marca reported last week Kane has emerged as a prime target.