Italian despair at World Cup 'apocalypse'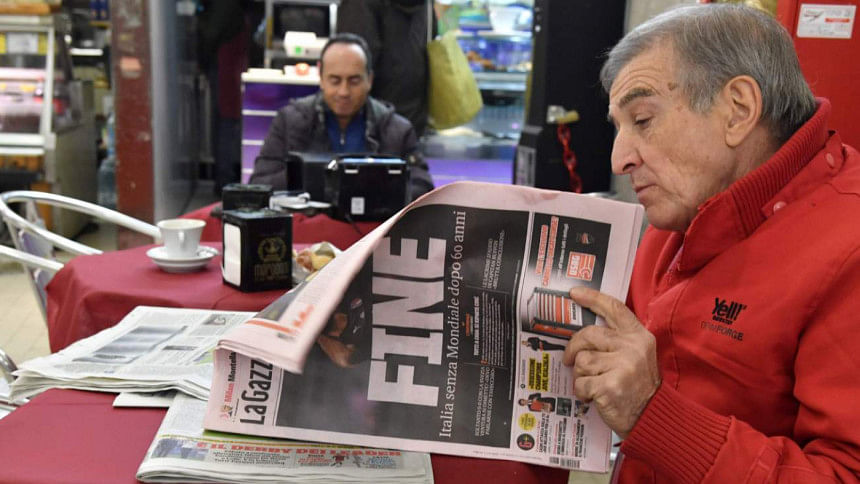 Stunned Italians awoke Tuesday to the nightmarish realisation they will miss out on the World Cup finals for the first time in 60 years.
Distraught fans of the one-time top dogs of the global game reacted with shock and disbelief.
The Italian press called it an "apocalypse" for the team, who last failed to qualify for the 1958 World Cup and have played every other edition apart from the inaugural tournament in 1930.
Tearful captain Gianluigi Buffon quit international football and coach Gian Piero Ventura said he would consider his future after the Azzurri drew 0-0 with Sweden on Monday to lose 1-0 on aggregate.
There was disbelief among the 75,000 fans in Milan's San Siro Stadium with 14.8 million stunned Italians watching their national fall from grace on television.
The Italian football federation called crisis talks for Wednesday with 69-year-old Ventura expected to be sacked.
"We are deeply affected and disappointed," said federation president Carlo Tavecchio. "It's a sporting failure that requires shared solutions by everyone."
For many the defeat reflected a profound malaise in Italian football with the 2006 World Cup triumph having been followed by group stage exits from the last two World Cups.
"It's the biggest Italian sports catastrophe of the last 60 years, which cannot be blamed on the coach," former Rome mayor Walter Veltroni told Rai Radio 1, suggesting a total clearout of the hierarchy.
"The results are missing at the national level, clubs, from grassroots level basically. There is a problem in Italian football, that concerns the management, down the ranks.
"A new president, a new coach, are needed. After (Alessandro) Del Piero and (Francesco) Totti there is a fundamental problem in Italian football lacking authority."
For Buffon it was a national catastrophe more than a personal disappointment.
"I'm not sorry for myself but all of Italian football, because we failed at something which also means something on a social level," he said.
The 39-year-old goalkeeper, who has 175 international caps and was an integral part of the 2006 World Cup victory in Germany, had been hoping to compete in a record sixth World Cup.
But Ventura made no announcement about his position despite failing to lead the 1934, 1938, 1982 and 2006 winners to their 19th World Cup.
- 'Resign? I don't know' -
The former Torino coach said he would first talk to the federation president before making a decision on his future.
"Resign? I don't know. I have to evaluate an infinity of things. I have not yet spoken to the president," said Ventura. "It doesn't depend on me, I'm not in the state of mind to face this question."
"It's a very heavy result to bear, because I was absolutely convinced that we had this ferocious desire to overcome the obstacle."
Fans were struggling to come to terms with the prospect of a World Cup without their team.
"It is really very sad because watching the World Cup was something that really brought us together as Italians," said graduate Stefania Pusateri, heading for the exit after watching the match in a Rome bar.
"But what is sure is that the shock will be even worse for my father. He is 54 years old and he has never had to go through something like this."
Drinking coffee the morning after, young Roman Carlo said Ventura did not deserve to take all the blame.
"The truth is we haven't replaced the players we had in the past. World-class players like Roberto Baggio, Del Piero, Totti: they just aren't there any more."
The game in Milan witnessed a generational shift for Italy, with Buffon and fellow 2006 veterans Andrea Barzagli and Daniele De Rossi all quitting the team, while Giorgio Chiellini also hung up his Azzurri jersey.
"The era of four or five veterans comes to a close, the one of the hungry young players coming through begins and that's how it should be," said Ventura, who took over from Chelsea coach Antonio Conte in 2016 with a contract until June 2020.
- 'Intolerable' shame -
Ventura had made changes from Friday's defeat with Brazil-born Jorginho making his Italy debut and Alessandro Florenzi and Manolo Gabbiadini also handed starts, although Napoli's in-form winger Lorenzo Insigne was again left on the bench.
As the clock ticked down, De Rossi was asked by Ventura to warm up but he pointed at Insigne instead.
"I just said we were near the end and had to win, so send the strikers to warm up," said De Rossi. "I pointed to Insigne too. I just thought perhaps it was better that Insigne come on instead."
Buffon even came up for two corners in a final gamble but Italy fell desperately short.
"Italy, this is the apocalypse," ran a headline on the website of sports daily Gazzetta dello Sport.
"Wasted chances, a bit of bad luck but zero goals in 180 minutes against the Swedes, who will go to Russia," Gazzetta commented.