Ibra scores as Man United overcome Galatasaray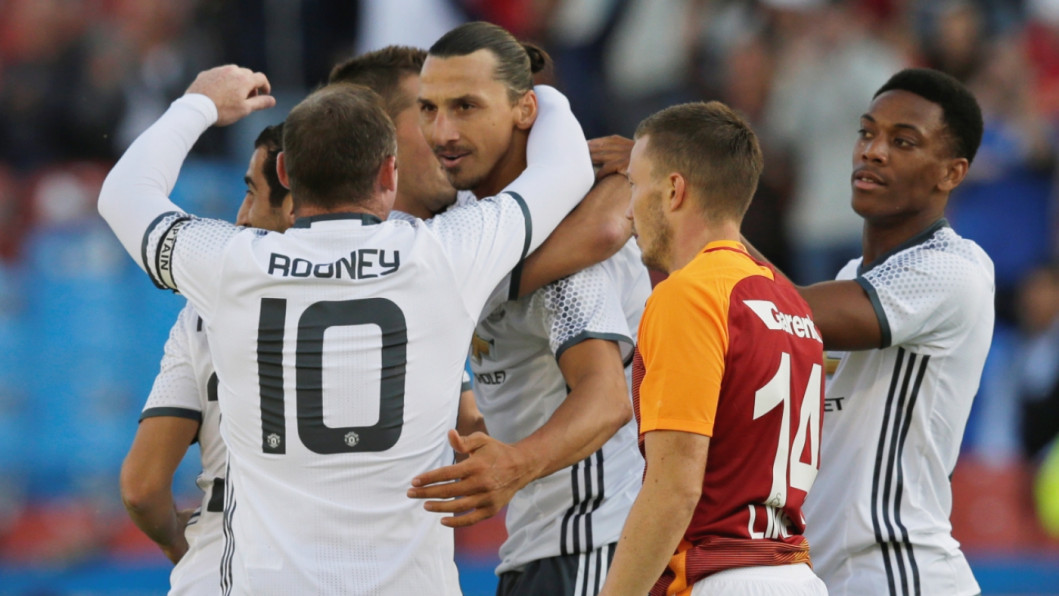 Zlatan Ibrahimovic made a dream start to his Manchester United career by scoring acrobatically in just the fourth-minute of his debut as they won 5-2 against Galatasaray in Gothenburg with Wayne Rooney netting twice.
United had to recover from a 2-1 deficit at half-time but they out-played the opposition in the second half with Antonio Valencia eventually setting up three of the team's goals.
It meant that Ibrahimovic could enjoy both his personal contribution and the end result, as he made a glorious return to his homeland of Sweden.
United manager Jose Mourinho again fielded a starting line-up in a 4-2-3-1 formation, with Ibrahimovic beginning as the advanced striker, Rooney behind him and Anthony Martial wide left with Henrikh Mkhitaryan wide right.
After all the hype surrounding Ibrahimovic and talk of 'Zlatan time' from the club when promoting his move, a strong start to his career at the club was just what he needed. Zlatan time in this match came when Valencia delivered an impressive cross and Ibrahimovic met it with a scissor kick that bounced and nestled into the net.
United carried on looking the better side but a familiar problem from their days under former manager Louis van Gaal - a vulnerability against set-pieces - reared its head and allowed Galatasaray to equalise in the 25th minute. The free kick was delivered from Wesley Sneijder and an unmarked Sinan Gumus headed in.
Galatasaray were finding some more drive and David De Gea was forced into two saves in quick succession, tipping over an strike from Sneijder then palming away a header by Yasin Oztekin.
The Turkish team still managed to snatch the lead before the break though, as Bruma exchanged passes with Gumus then struck in a well-worked goal.
In the second half, Rooney - who had struggled in the first period - was the only one of the front four who were kept on the field, rather than being substituted, and he quickly showed that he was in the mood to make amends.
First, he touched in the equaliser from another Valencia cross.
It was much better from United and a key to that was the impact made by Marcus Rashford, who made a fine run and rounded goalkeeper Fernando Muslera before being hauled down by the goalkeeper and winning the penalty. Rooney had the courage to take the spot-kick and struck in to give United a 3-2 lead.
United were overpowering their opponents and added a fourth goal when Valencia delivered for Marouane Fellaini, who scored with a looping header. Juan Mata then slid in to make it 5-2 after a smart passing move in the build-up, culminating in Michael Carrick lofting the ball across for the Spaniard to finish.