Pique jeered by fans at Spain training session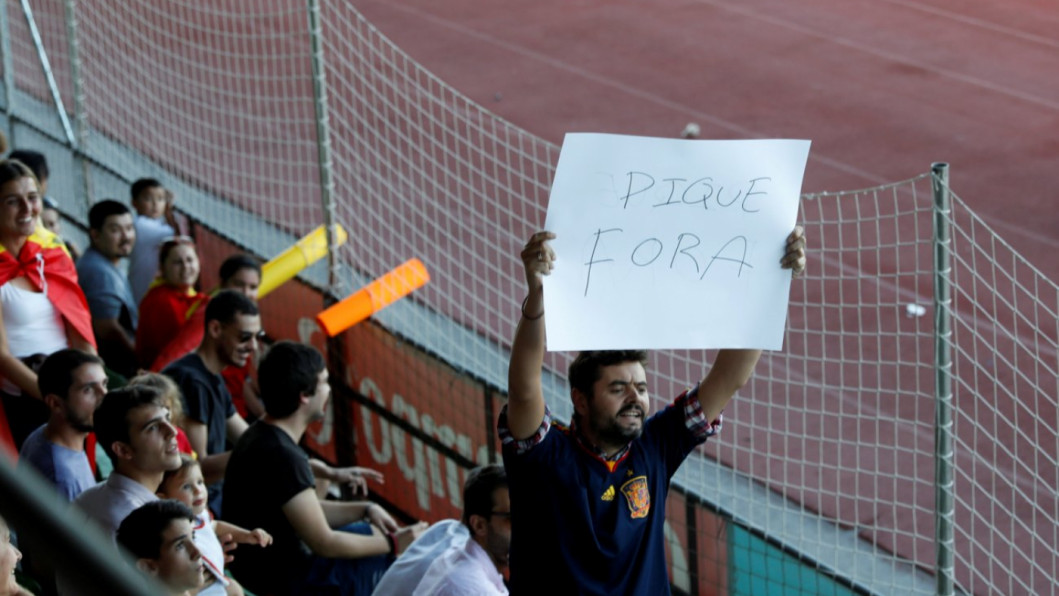 Barcelona's Catalan defender Gerard Pique was targeted by angry Spain fans on Monday as he took part in an open training session with the national team the day after the Catalonia independence referendum that was declared illegal by the Government.
Centre-back Pique, who voted in the referendum and has criticised police violence against voters which resulted in hundreds of injuries, has long been targeted by Spain fans but Monday's barrage of insults was particularly severe.
Spain supporters at the Las Rozas training facility in Madrid jeered, whistled and chanted at Pique to leave the team, who are preparing for two World Cup qualifiers, brandishing banners carrying insults aimed at him.
Pique's stance on independence and remarks regarding Spanish Prime Minister Mariano Rajoy has given the Spain training a politicized environment.
The reaction of Rajoy's government to the escalating crisis has drawn widespread criticism both in Spain and across the world.
Pique said Rajoy was not up to the job of leading Spain.
"He travels around the world and doesn't even know how to speak English," he said.
Pique's latest declarations have once again raised the debate over his role in the Spanish national team.
Despite forming a crucial part of the Spain sides that won the 2010 World Cup and Euro 2012, Pique is routinely jeered when representing his country.
Spanish media reported that police confiscated some of the banners, including one which described Pique as "sickening".
"The behaviour of Gerard has been exceptional," coach Julen Lopetegui told Spanish radio station Cadena COPE.
"I wanted to see how he was and I saw he was motivated and enthusiastic. He's well and fired up, if it were not like that he wouldn't be with me."
However Lopetegui defended the decision to hold the training session in public, adding: "It would have been an error to train behind closed doors. The fans have the right to express themselves.
"I know the situation is unpleasant, but I ask people for a little reason and sanity."
Pique, 30, said on Sunday he would leave the national team if asked to by Lopetegui or the RFEF (Spanish FA).
He has already announced that he will retire from international duty after the 2018 World Cup in Russia, having grown tired of being criticised by Spain supporters.
Pique has played 91 times for his country and was a member of the squad that won the 2010 World Cup and the 2012 European Championship.
Group G leaders Spain, three points clear of second-placed Italy, are aiming to seal a place at the finals in qualifiers at home to Albania on Oct. 6 and away to Israel three days later.