Ronaldo checks face injury using phone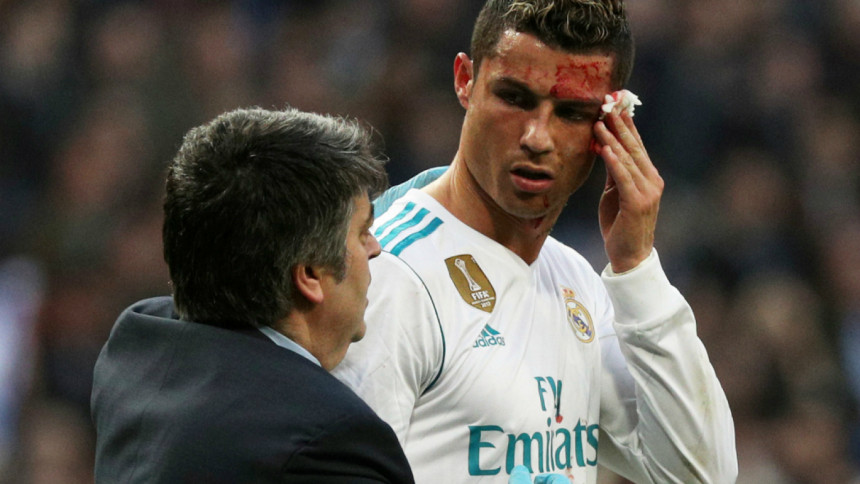 Beauty might be only skin deep but that didn't stop Cristiano Ronaldo from checking out how deep it was when he used a medical staff's phone to check out the injury he suffered during Real Madrid's demolition of Deportivo de La Coruna yesterday

.

The lack of La Liga goals was becoming a concern for the forward and there were signs that it would be another frustrating night for the Portuguese as fellow Galactico Gareth Bale struck twice early on in the match. Ronaldo was not to be outdone and opened his account for 2018 with two fine goals.

The Real Madrid forward's late goals yesterday saw him break an unimpressive run of form in La Liga as he added Real's fifth and sixth with a smart volley and a diving header to take his Liga goal tally to six.

Ronaldo's second goal came from a brave diving header but the Portuguese took a boot to his head and fell to the ground in agony.

Ronaldo got up on his feet and begin to instruct the medical team member to hand over his phone. He proceeded to check his injury using the phone and shook his head in bitter frustration after looking at his own bloodied forehead.

The Portuguese disappeared down the tunnel along with the medical staff while Madrid played the rest of the game with 10 men, having already made all three substitutions.

"Presumably the handsome fella had more important matters to attend to at that point," ESPNFC joked regarding the incident.