UEFA EURO 2016, FRANCE
Costa, Mata left out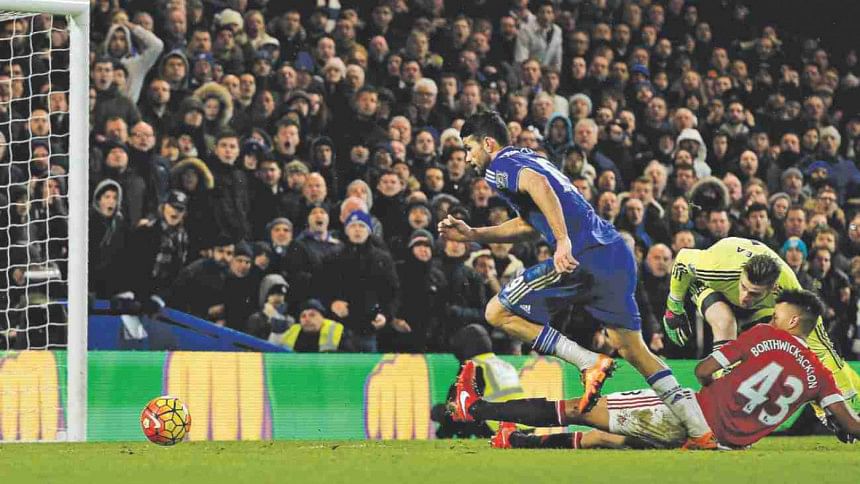 Chelsea striker Diego Costa was left out of Spain coach Vicente del Bosque's provisional 25-man squad for Euro 2016 on Tuesday.
The naturalized Brazilian missed Chelsea's last two games of the season due to a persistent hamstring injury and has struggled at international level with just one goal in 10 games since declaring to play for Spain in 2013.
"We didn't want to bring too many players with a certain doubt over their physical condition," Del Bosque said of Costa's omission from the two-time defending champions' squad.
Del Bosque will have cut his final squad to 23 players on May 31.
World Cup winners Fernando Torres, Juan Mata and Javi Martinez were also high-profile names left out by Del Bosque.
The absence of Costa and the in-form Torres means Del Bosque has only two central strikers to choose from in 35-year-old Aritz Aduriz and Juventus' Alvaro Morata.
Arsenal's Santi Cazorla was also excluded having just returned from a long-term knee injury.
The uncapped Saul Niguez and Lucas Vazquez of Atletico Madrid and Real Madrid did make the 25, whilst Villarreal captain Bruno Soriano was surprisingly included amongst 10 midfielders.
Del Bosque also named 11 uncapped promising younger players to bulk up his squad for the friendlies against Bosnia and Hercegovina and South Korea on May 29 and June 1 respectively with Real and Atletico players set to take part in the Champions League final on May 28.
Spain begin their campaign against the Czech Republic on June 13 before also facing Turkey and Croatia in Group D.
The first part of the squad will meet on May 23 with a further nine players joining after taking part in respective Cup finals on May 28.
The seven Real and Atletico players in the squad will meet up on June 4 and only be available for one pre-tournament friendly against Georgia on June 7.
"That we have three teams in European finals is fantastic, but it reduces our preparation because until the fourth we won't all be together and that is just six days before the Euros start," added Del Bosque.
SQUAD
GOALKEEPERS
 Iker Casillas (Porto), David De Gea (Manchester United), Sergio Rico (Sevilla)
DEFENDERS
Jordi Alba, Gerard Pique, Marc Bartra (Barcelona), Sergio Ramos, Dani Carvajal (Real Madrid), Cesar Azpilicueta (Chelsea), Juanfran (Atletico Madrid)
MIDFIELDERS
Sergio Busquets, Andres Iniesta (Barcelona), David Silva (Manchester City), Mikel San Jose (Athletic Bilbao), Koke, Saul Niguez (Atletico Madrid), Cesc Fabregas (Chelsea), Thiago Alcantara (Bayern Munich), Isco (Real Madrid), Bruno Soriano (Villarreal)
FORWARDS
Pedro Rodriguez (Chelsea), Alvaro Morata (Juventus), Aritz Aduriz (Athletic Bilbao), Nolito (Celta Vigo), Lucas Vazquez (Real Madrid)