BPL sold for Tk 20 cr
Saif Powertec win the rights for 5 years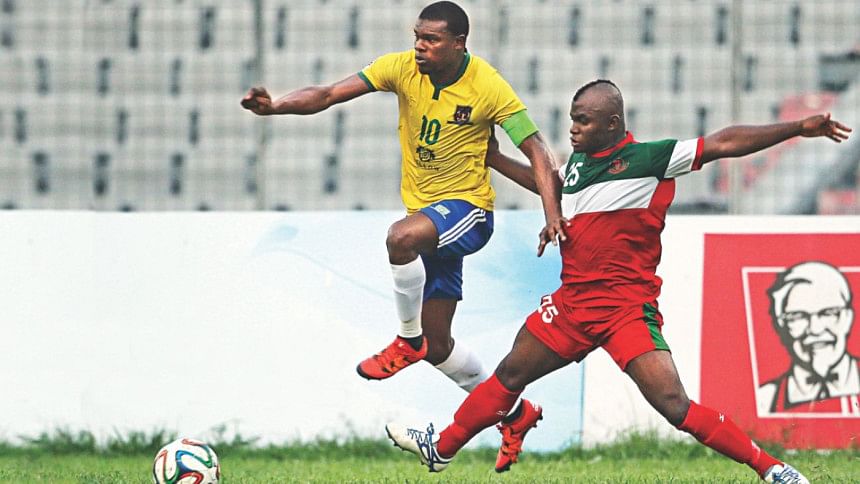 Saif Powertec Ltd is all set to earn the commercial rights of the Bangladesh Premier League (BPL) for five years. This was disclosed by Salam Murshedy, the senior vice-president of the Bangladesh Football Federation, after an EC meeting of the game's governing body at the BFF House yesterday.
According to Murshedy, Saif Powertec, which has recently decided against launching a franchise-based Bangladesh Super League, will pay Tk 20 crore –four crore in each year –to have all the rights including a 75 per cent share of the gate receipts of the country's glamorous domestic league.
 "The meeting has approved the Saif Powertec proposal that will run for five years starting from this season. We will put pen to paper on Saturday," Murshedy told reporters after emerging from the meeting.
"The sponsors will have all rights including branding, television and gate revenue while the BFF would provide the logistic support," said Murshedy, adding that unlike the previous editions the Bangladesh Premier League will be held in six different districts including Dhaka.
He said that it would be the prerogative of the sponsors to decide the six venues from a possible seven in Dhaka, Chittagong, Rajshahi, Mymensingh, Sylhet, Barisal and Gopalganj.
Of the 132 league matches, a total of 112 games will be held outside the capital with the 12 Bangladesh Premier League teams getting the opportunity of traveling from one venue to next.
Murshedy, however did not elaborate the massive expenditure that will be required for playing in six different venues across the country.
Last season, the BFF paid Tk 25 lakh to each of the 11 teams as participating money but this time the game's governing body might have to increase the participation money to Tk 30 lakh for each participating team for additional travel, accommodation and food expenses. Besides, the BFF will also have to disburse Tk 30 lakh as prize money for winners. 
"We have not considered the expenditure, rather our target is to bring the spectators back to the stadiums and that's why we are taking the league outside the capital. We will negotiate with sponsors for a raise if we get positive response this year," said Murshedy.
However, BFF general secretary Abu Nayeem Shohag informed that they would need an additional Tk 2 crore that includes honarium of the referees and match commissioner as well as the transport and accommodation costs of the BFF officials for successfully completing the league.