Barca seals massive deal with Japan's Rakuten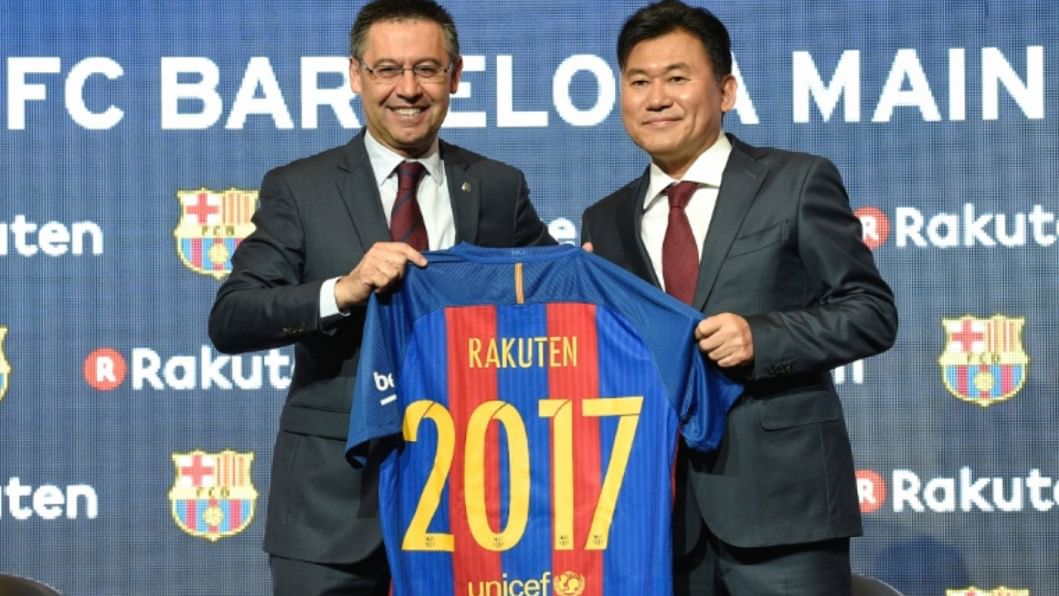 Spanish giants FC Barcelona sealed a massive shirt sponsorship deal Wednesday with Japanese online retailer Rakuten worth at least 55 million euros ($59 million) a year.
One of world football's most lucrative shirt sponsorship deals sees Japan's leading e-commerce company replace Qatar Airways, Barcelona's shirt sponsor since 2013, confirming Asia's appetite for major investment in European football.
The deal, which begins in the 2017-18 season, will last for four years.
With the pulling power of top stars like Lionel Messi and Neymar, Barcelona's success on the pitch ensures the club exerts a huge draw on advertisers.
"The base contract is 55 million euros per year, with a bonus of 1.5 million euros per year if the club wins the La Liga and five million euros if it wins the Champions League," Barcelona's head of marketing, Manel Arroyo, told a news conference at the club's Camp Nou stadium.
Qatar Airways were reported to have paid 35 million euros for the final year of their deal taking them up to the end of the 2016-17 season.
Messi power
Barcelona boast some of the world's most recognisable stars -- vital marketing assets for the club's partners -- who have millions of followers on social media, promising invaluable exposure to sponsors.
Argentine striker Messi is one of the most popular athletes in the world on social media, with more than 78 million fan followers on Facebook alone.
Barcelona's new sponsorship deal however falls short of the seven-year deal which Manchester United signed with Chevrolet which will earn the English club $560 million -- about $80 million (70 million euros) per year.
Barcelona -- once renowned for never having had a sponsor on their shirts -- had been looking to replace their Qatar Airways contract which was seen as below market value for a number of seasons.
It extended its contract last year with the airline for one year while it looked for a new partner.
Rakuten, seeking to boost its global image, is Japan's biggest e-commerce company with more than 13,000 employees in Japan and turnover of more than two trillion yen (18.2 billion dollars) in the first three quarters of the year.
The company is already involved in domestic sport in Japan, owning J-League club Vissel Kobe and pro baseball outfit Tohoku Rakuten Golden Eagles.
"Our great ambition is to turn a Japanese brand into a global brand," said Rakuten's co-founder and chief executive officer Hiroshi Mikitani, a personal friend of the club's defender Gerard Pique.
Barcelona president Josep Maria Bartomeu said the talks were initiated by Pique, who arranged a dinner last year with Mikitani in San Francisco.
"Asia is a very important market for Barca," he added.
Barcelona took its first step towards ending its tradition of shunning sponsors on its shirts in 2006 when it agreed to bear the logo of Unicef.
In 2011 Qatar Foundation replaced the charity on the club's shirts under a new deal.
New Camp Nou
Qatar Airways signed its first sponsorship deal with the club in 2013.
But many of Barcelona's members had expressed their opposition to the club's relationship with the Gulf state.
Former club president Joan Laporta had pledged to end the sponsorship deal if re-elected to the post but he was soundly beaten by Bartomeu in the club's 2015 election.
Barcelona's new sponsorship deal comes as the club is set to begin work in 2018 on an extensive renovation of their Camp Nou home.
The refurbishment will see the capacity of Europe's biggest stadium extended to 105,000 and an open facade to allow views across the city.
A budget of 420 million euros has been estimated for the project that will be financed in large part by proceeds from sponsorship.
Barcelona in May signed a 10-year kit agreement with Nike, which it expects to bring in at least 150 million euros per season when the arrangement takes effect in the 2018-19 season.
The club is expected to post a record turnover of 679 million euros in the 2015-16 season and surpass arch-rival Real Madrid as the world's richest club in the annual rankings by Deloitte.