Barca qualify with 0-0 draw in Turin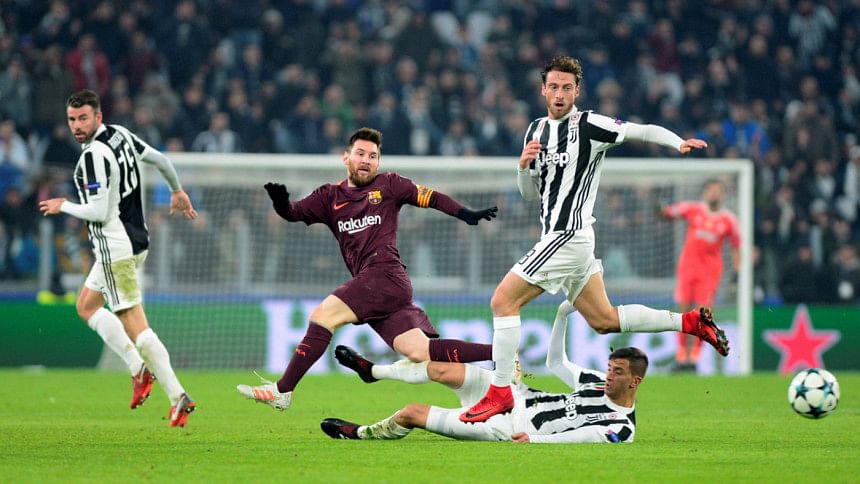 Barcelona allowed themselves the luxury of starting with Lionel Messi on the bench and still held out for a 0-0 draw at Juventus to reach the last 16 of the Champions League on Wednesday.
Barcelona, who brought on Messi early in the second half, enjoyed long spells of possession but used it as a defensive tactic to stop Juventus attacking rather than creating chances themselves.
Juve were lacklustre, with forward Gonzalo Higuain barely getting a look-in as they failed to score in a home match for the first time since September last year.
The Turin side nearly snatched a win in stoppage time but Paulo Dybala's low shot from the edge of the area was turned around the post by goalkeeper Marc-Andre ter Stegen.
Even so, coach Massimiliano Allegri enjoyed the match. "It was a nice game from a tactical point of view, the lads worked hard to defend well," he said. "We were more interested in the performance than the result."
The Serie A side, who are second in Group D, will qualify for the last 16 unless they fail to beat Olympiakos away in their final game next month and Sporting win at Barcelona.
Sporting kept alive their own hopes by beating Olympiakos 3-1 in Lisbon in the other game with Bas Dost scoring twice. Bruno Cesar was also on target for Sporting and Vadis Odjidja-Ofoe scored a late consolation for the Greeks who were eliminated.
Barcelona, who played their second successive goalless draw in the group, have 11 points and are guaranteed to finish top. Juve are on eight, Sporting on seven and Olympiakos on one.
Barcelona coach Ernesto Valverde said that Messi had needed a rest. "He had to take a break at some point... he's been playing a lot of games," he said.
Barcelona were closest to a first-half goal when a long-range Ivan Rakitic free kick found its way through the penalty area, bounced off the post and fell to Paulinho, who was unable to take advantage.
Paulinho's other notable contribution was to be booked for diving in the penalty area while Luis Suarez was largely anonymous.
Dybala had Juve's best first-half effort when he dribbled around three defenders but he fired over from a difficult angle.
Messi's entrance changed little although the Argentine came close when he curled a long-range free kick over the bar.
Barcelona should have scored when Juan Cuadrado slipped and let in Lucas Digne but, instead of shooting, he tried to pass to Suarez and the Juve defence intercepted the ball.
The most entertaining moment came after the final whistle when Juve goalkeeper Gianluigi Buffon took off his gloves and his shorts and threw them into the crowd.