Barca to complain about Malaga's inflammatory words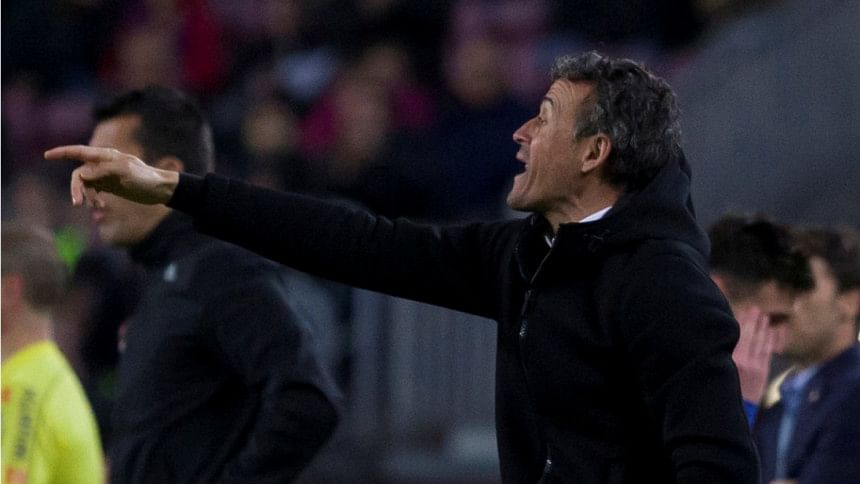 FC Barcelona will lodge a formal complaint to Spain's football authorities over unfortunate comments made by Malaga owner and its coach, both of whom suggested that they will not stand in the way of Real Madrid winning La Liga, said a report by UK newspaper Independent.
The Andalusian club faces Real Madrid on the last day of La Liga fixtures, a game which could be decisive in the fight for the title.
Comments from Malaga coach Michel and a tweet from owner Sheikh Abdullah Al Thani suggested that the Rosaleda club prefer Real Madrid to win the title.
Michel is a lifelong Real Madrid fan, having played for the Blancos for 14 years, and maintains close friendship with club president Florentiono Perez. He was asked whether he would be emulating Jorge Valdano, another ex Real Madrid man who defeated Real Madrid as the Tenerife coach on the final day of the league, a defeat which handed Barcelona the title.
"I'm much more of Madrid fan than Valdano was," Michel said, suggesting he would not want to prevent his boyhood team from winning La Liga.
While Michel's comments caused outrage in Barcelona, Al Thani chose to pour petrol on the fire when he tweeted in response: "the human waste of Catalunya will never smell [the glory] of La Liga." 
So strong was his message that FC Barcelona released a statement on Thursday morning, decrying Al-Thani's words and announcing that they will take his words to the authorities, Independent said in its report.
"FC Barcelona expresses its rejection and indignation of the content of a tweet published by the president of Malaga CF, Abdullah Al-Thani, with some declarations that assault the very principles of fair play, ethics and legality that must reign over sporting competition.
"For this reason, the club will formally complain to the Anti-Violence Comittee of the Superior Sports Council, and will transfer the matter to the Competition Committee of the Royal Spanish Football Federation, and the Department of Integrity of La Liga."