Bangladesh Premier League, 27th Match
Sylhet win a nail biter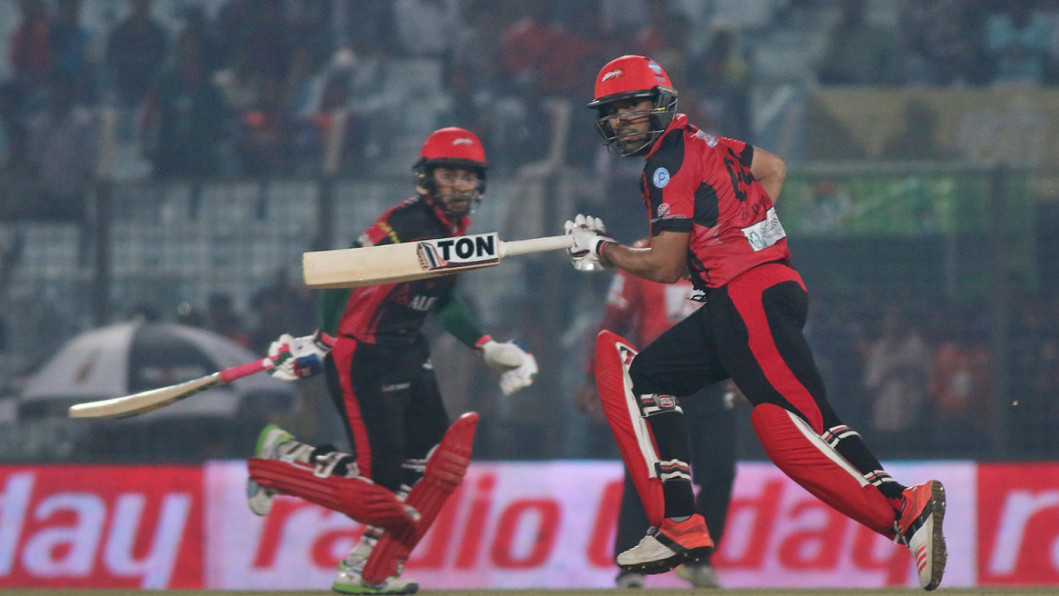 Two sixes from Shahid Afridi in the last over bowled by Farhad Reza took his team home in an exciting match against Dhaka Dynamites.
After delivering four, full balls around off, and dismissing Sohail Tanvir, Farhad lost the plot and tried to go for leg-stump yorkers. Afridi anticipated the line and swiped the full tosses for consecutive six over deep square-leg.
Sylhet Super Stars v Dhaka Dynamites
Sylhet:
162/4 (19.5/20 over)
Dhaka:
157/5 (20/20 over)
Ravi Bopara anchored the chase skillfully, and was sent back in the 18th over by Farhad. Bopara's 55 off 40 balls was the top-score for Sylhet.
Junaid Siddique gave ample support to Bopara during their match-winning stand, and was dismissed for 51 runs in the 16th over. Yasir Shah got the key wicket and gave Dhaka hope of victory.
For Dhaka, Farhad Reza took two while Yasir Shah captured a wicket in their spells. Mustafizur Rahman was unlucky not to take a wicket, but gave away only 14 runs in four, tight overs.
Juanid reached his fifty from 37 balls, smashed three sixes and a four. Ravi Bopara was more aggressive than his partner, and he reached his half-century after playing 33 balls.
Bopara's big hitting brought down the required run-rate to more manageable proportions for Sylhet.
After the half-way stage of the match, both Bopara and Junaid began to take some risks, and they paid off superbly for Sylhet.
Sylhet's Ravi Bopara and Junaid Siddique kept taking the ones and twos when Dhaka bowlers were on top, and didn't throw away their wickets out of frustration.
Josh Cobb began to get going, but was brilliantly run-out by Dhaka captain Sanga against the run of play in the fifth over.
Junaid inside edged a ball from Mustafizur and took off for a run, Cobb ran quickly but couldn't beat Sanga's off-balance throw from behind the stumps. A dive was needed to beat that bullet-throw!
Cobb scored 15 from 17 balls with two fours.
Sylhet Super Stars openers Junaid Siddique and Josh Cobb came out to chase with a plan, and played positive cricket from the onset.
Earlier, Dhaka managed to score 157 runs for the loss of five wickets against Sylhet Super Stars mainly due to the sterling efforts of Kumar, Nasir and cameos from Waller and Mosaddek.
Kumar was sent back in the last over, not before Sri Lankan scored 48 useful runs from 35 balls. He was instrumental in repairing the early damage, and smacked seven fours during his stay at the wicket.
The Kumar-Nasir stand was stopped by Sylhet's Rubel Hossain in the 1 th over, and the wicket came a bit too late for Super Stars' liking.
The stand produced 69 runs in 7.3 overs. Nasir was dismissed for a well made 31 from 23 balls. His knock contained two fours and two glorious sixes.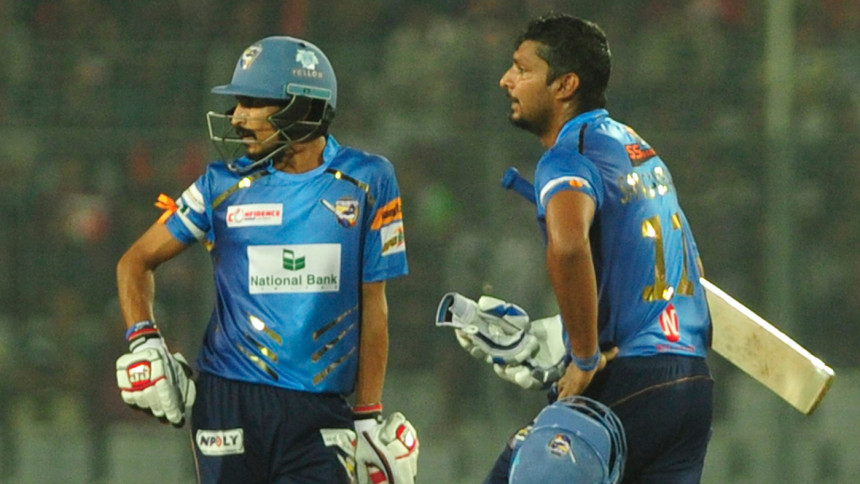 After the early wobble, both Kumar and Nasir played sensible cricket, and got their eyes in.When the death overs approached, they opened their shoulders and feasted on the good-length hit-me balls.
Ravi Bopara came onto bowl in the 11th over and gave his team an important breakthrough. His short, wide delivery was edged behind by Farhad Reza.
Farhad was going great, smashed 31 runs from 28 balls with four boundaries and a six, and kept his end secured while the more experienced batters played silly shots to get out.
Dhaka Dynamites stuttered in their innings when their Pakistani recruit Mohammad Hafeez threw away his wicket recklessly after hitting some good shots of the back foot.
Abdur Razzak got his second wicket of the game by the 8th over when his slightly short ball was pulled by Hafeez straight into the hands of Mominul at deep midwicket. Hafeez managed eight runs.
Yasir Shah's opening role didn't really have any impact other than eight runs were scored from 18 balls, and gave mixed signals about Dhaka's approach with the bat.
How a leg-spinner who comes lower down the order while playing for his national team can tackle the difficult batting conditions at Mirpur when more established, big name batters fail is quite confusing to say the least.
Sylhet Super Stars captain Shahid Afridi won the toss and elected to field first against Dhaka Dynamites led by Sri Lankan legend Kumar Sangakkara.
For Sylhet, their stiffened pride is at stake in this match today, but Dhaka need the points to confirm top-four finish.
Hope the pitch offers plenty of runs and exhilarating excitement in the 27th game of BPL-2015.
Sylhet Super Stars
JJ Cobb, Junaid Siddique, Nurul Hasan, Mushfiqur Rahim (Wicketkeeper), RS Bopara, Shahid Afridi (Captain), Mominul Haque, Sohail Tanvir, Abdur Razzak, Mohammad Shahid and Rubel Hossain
Dhaka Dynamites
Nasir Hossain, Mosaddek Hossain, MN Waller, Abul Hasan, Mosharraf Hossain, Nabil Samad, Mustafizur Rahman, Yasir Shah, Farhad Reza, Mohammad Hafeez and Kumar Sangakkara (Captain, Wicketkeeper)