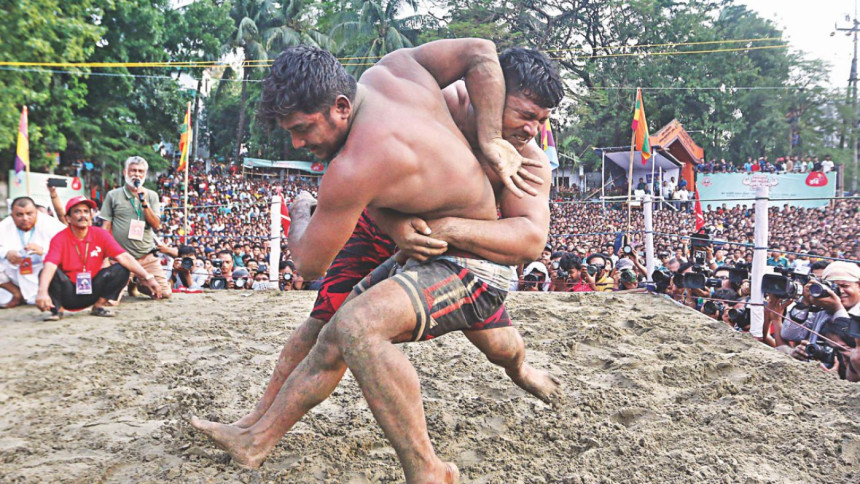 Wrestling for what he said would be the final time, Didarul Alam exacted revenge by defeating last year's champion Mohammad Shamsu Alam to clinch his 11th title in Jabbarer Boli Khela at Chittagong's Laldighi Maidan yesterday.
On April 14, Didar had said that he would not be taking part in any further Boli competition as there was a 'conspiracy' against him. However, that did not seem to deter him in the least as he took under 17 minutes to slam Shamsu forcefully onto the ground.
Didar had been bested in the final by Shamsu in the 107th edition of the tournament last year, when the match had reached a stalemate with neither being able to slam down the other after nearly half an hour. The judges were then tasked with selecting a winner based on the participants' tactics, and they awarded Shamsu the title.
Whether that was the conspiracy or not, Didar walked away with a trophy and Tk 20,000 this year, while Shamsu received Tk 15,000.
The century-old annual event was started in 1909 by businessman Abdul Jabbar Sowdagor to inspire youths to join the anti-British movement through the display of their physical strength. It has become a regular fixture in the sporting calendar since, with scores of wrestlers and spectators flocking to the event.
Before the start of the competition, there is a three-day fair where traders from different parts of the country set up stalls and sell their wares.