Summit-DRU Media Cup Cricket Tournament
Daily Star storm into the semis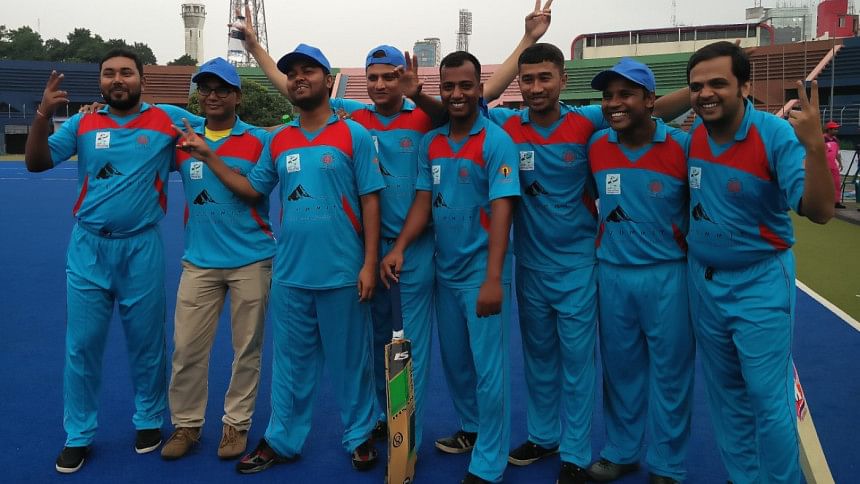 The Daily Star took another step forward in their quest to bring home the Summit-DRU Media Cup Cricket trophy when they annihilated Channel 24 by five wickets in the quarter-final clash at the Maulana Bhasani Hockey Stadium today.
Chasing a stiff target of 94 runs in six overs, Fazlur Rahman showed the difference between men and boys with a bat in hand as he dispatched the Channel 24 bowlers all around the park with utter disdain. The Channel 24 fielders, especially at cow corner almost had stiff necks as they helplessly watched the ball sail over their heads time and time again.
Man-of-the-match Fazlur remained unbeaten on 64, and with Rafiul Islam at his side, he ensured The Daily Star reached their objective without losing any wickets. Rafiul played second fiddle to the brutal assault at the other end, and scored 27 runs with a wide array of shots. The Daily Star captain Hasan Jahid Tusher couldn't have asked for a better response from his opening batters facing such a daunting task, and was upbeat about his team's chances to go the distance, no matter which side may stand in their way.
The Summit-DRU Media Cup Cricket tournament is being held at the Maulana Bhasani Hockey Stadium in Dhaka with 48 media houses taking part.
The champion team will receive Tk 50,000, the runners-up team will get Tk 30,000 while there will also be monetary awards for the two losing semifinalists.