Women cricketers step out to prove themselves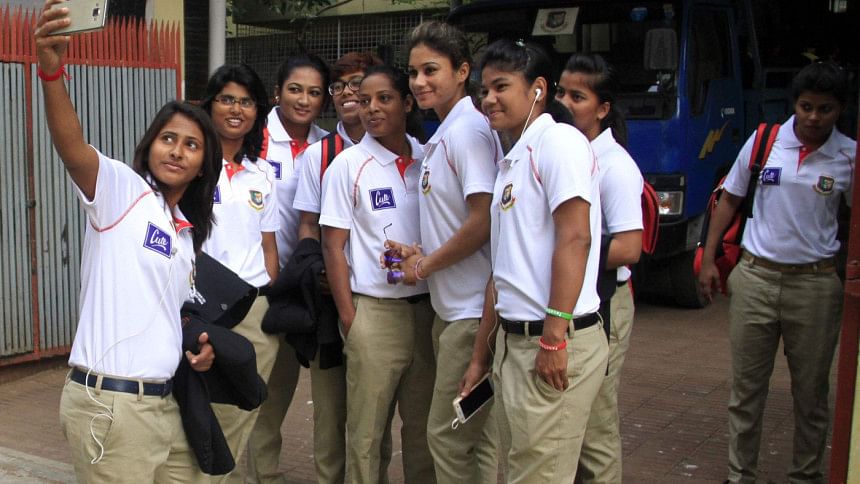 Led by the young Jahanara Alam, the women's national cricket team left for Bangalore yesterday morning without having garnered much attention. With a large chunk of journalists already in India, in order to cover the men's journey, the women's side didn't receive much of a reception.
However, that does not in any way, discard the immense amount of potential that the women in green have. Let's for a moment, forget the fact that these girls have been pitted against the three best T20I sides in the world -- India, West Indies and England-- in the group stages and focus on the way this team has developed.
The most obvious sign of progress is that the board has made way for a new captain. To be able to replace Salma Khatun, who could very well be considered as a bit of a legend in Bangladesh's women's cricket, is a thought that previously couldn't not even be imagined.
However, the influx of players and the yearning for the new has gone on to bring this transformation. And this is just the start, there's plenty more on the cards.
Take for example a look at the best performers in the side from the recent games. The youngsters have done a lot better than the veterans in the side.
Take for example the case of the 18-year-old wicketkeeper-opener Nigar Sultana. She scored a defiant 41 in the last game against Ireland and also posted an unbeaten 30 against Pakistan in the ODI before that.
There's no doubt that the likes of Salma and Jahanara will carry a majority of the pressure going into the ICC World Twenty20. However, as a result of the recent change, there are other players, such as a Fargana Haque or a Rumana Ahmed, who can be looked up to.
With the team on the right track, a bit more perseverance can do wonders for them in the coming years. But in order to do that, they need to play more international matches. And that can only happen if they can make a statement, which is precisely what they aim to do in India.