Vijay makes it two in two against Tigers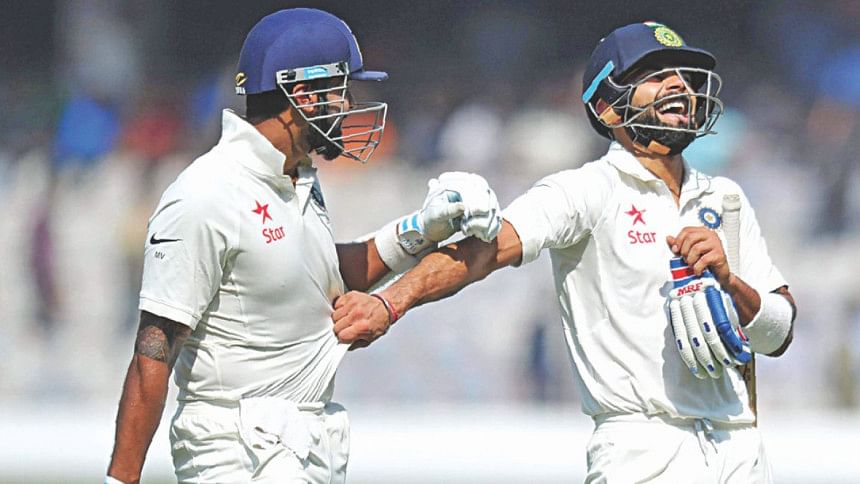 Murali Vijay seemed an extremely happy person at the end of the day yesterday. He had just completed back-to-back centuries against Bangladesh -- the first one was a powerful 150 at Fatullah back in 2015 -- and his score of 108 helped India see off the early threat.
Of course, his mood at the post-day press conference could have quite easily been different had he been run-out in the 19th over yesterday. Fortunately for him Mehedi Hasan Miraz failed to collect the throw when Vijay was yards out of the crease. Had Miraz collected it, Vijay would have been walking back to the pavilion for 35 thanks to a misinformed call from his partner Cheteshwar Pujara.
Vijay admitted it himself: "We need to work on that. If I would have been out, there would have been a different conversation with Pujara (laughs). I will have a talk with him."
The blunder aside, the Pujara-Vijay associations are generally quite reliable. Their 178 run-stand was the eighth century stand between them. Their partnership average is 67.47, which is already the third-highest among Indian batting partners who have shared at least 1,000 runs.
"We really like each other's company out there in the middle. He has a solid game and he makes things easy for me. We both share a good rapport and that makes it easy," said Vijay.
Pujara was dismissed for 83 and failed to score a hundred. In the process, however, he broke Chandu Borde's 52-year-old national record for most first-class runs in a season with 1605 at 89.16 in 2016-17.
 "I think he's going to become a great player, he's a great player. It's a great honour to move along with him and pick his brains. We are totally different characters in the dressing room because we don't think the same way but once we go to the middle, we enjoy the company and enjoy each other's success. He's been a fantastic role model for all the youngsters in India. Hopefully he can continue doing the great work," said Vijay.
Towards the end of the game Virat Kohli raced to a century and overtook Vijay's score. Vijay reckons that Kohli's quick runs could be very crucial to how the Test pans out.
"He has taken his game to a different level at the moment.  End of the day, you can see we are 354 [356] and I thought it would be great if we were 340. The 10-20 runs extra just happened because of him."