'Two-tier system will bring the death of Int'l cricket'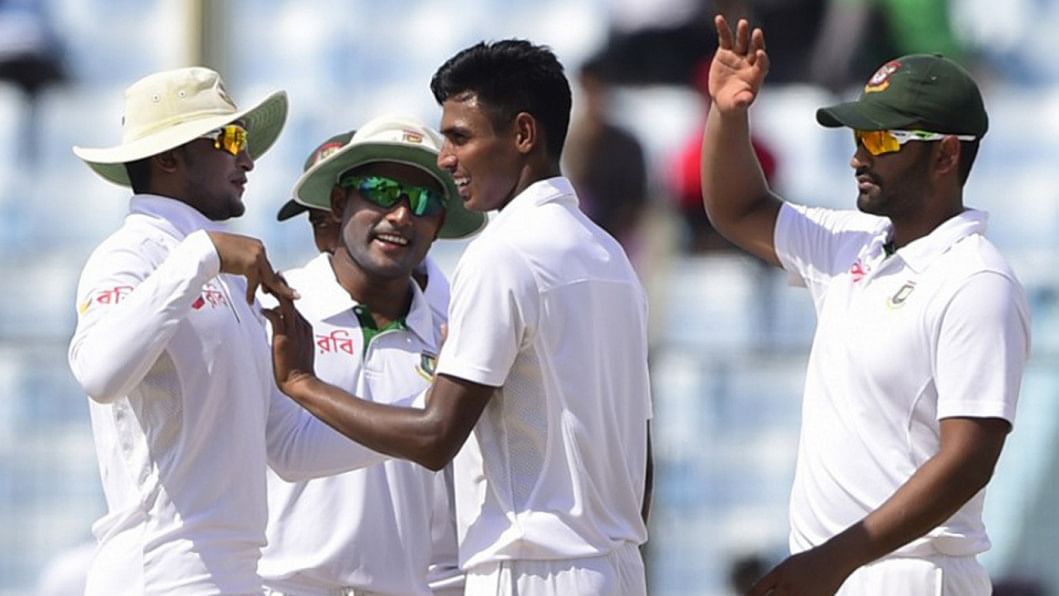 Test cricket's newest nations are in despair at plans to split the format into two divisions, fearing it could undo decades of hard-fought progress on the field and kill interest in the game.
Cricket's governing body the International Cricket Council (ICC) is meeting in Edinburgh this week to debate proposals for the seven top-ranked teams to establish a de facto premier league in a bid to boost waning interest in Tests.
Under the scheme being considered by the ICC, the other three countries with Test status would join a five-strong second division along with Afghanistan and Ireland.
While the shake-up would guarantee cricket's leading nations play each other every other year, the other sides would be starved of matches which draw in crowds and lucrative broadcast deals.
As things stand, the two latest arrivals at cricket's top table -- Bangladesh and Zimbabwe -- will be doomed to the second tier and could be joined by another relative newcomer Sri Lanka.
"This will spell the death of international cricket as we've known it," said Ahmed Sazzadul Alam, a Bangladesh Cricket Board (BCB) director.
Bangladesh lobbied for years to join cricket's elite before playing their first Test in 2000.
Their record has been poor, winning just seven of their 93 Tests and they are currently ranked ninth, just above Zimbabwe.
However, performances have improved significantly of late and Bangladesh have only lost six of their last 18 Tests.
BCB vice president Mahbubul Anam warned Bangladesh "would go backwards" if they stop playing teams such as England and India, both of whom they are due to play later this year.
"The more we play against competitive sides, the better we'll get," said Anam.
Alistair Campbell, a former director of Zimbabwe's board, appreciated the arguments for a split because of the gulf in class between the top and bottom sides.
But Campbell, a former captain who played in Zimbabwe's inaugural Test against India in 1992, said it would be heartbreaking if current players would never be able to compete against the best.
"It's going to be a tragedy if you are growing up in a country like Zimbabwe or Bangladesh," he told AFP.
"It means you might never get the opportunity to play with top tier sides. That might drive players to go and seek greener pastures."
'Disaster'
There are similar fears in Sri Lanka which has fallen down the rankings in the last two years after batting greats Kumar Sangakkara and Mahela Jayawardene retired.
Sri Lanka are currently ranked seventh and in danger of being overtaken by an improving West Indies by the time the proposed split comes into force.
Sri Lanka also struggled in the first decade after their inaugural Test in 1982 but then found their feet and won the 1996 World Cup.
Sidath Wettimuny, who scored Sri Lanka's first Test century, warned the architects of the split were playing with fire.
"It's okay to make some tweaks but what is proposed is going to be a disaster in every sense of the word," he said.
Sri Lankan board's secretary Mohan de Silva was cool on the proposal.
"We are not very much in favour, but we need to discuss with our executive committee after studying it carefully before taking a final decision," he wrote in a text from Scotland.
But Sports Minister Dayasiri Jayasekera insisted the shake-up should be opposed as it would "have a negative impact".
'Financial ruin'
Sri Lanka's cash-strapped board is hugely dependent on TV money and ticket revenue from tours by the likes of India and Australia.
But neither broadcasters nor spectators will pay significant amounts for matches involving minnows such as Ireland.
"If you club the weakest teams in one league, who'll be interested in watching those games? This will lead to financial ruin," Jayasekera told AFP.
The BCB's Alam also warned of dire financial consequences.
"There would be an inevitable loss of interest among younger followers of and a decline in interest from the media and sponsors," he said.
"The resulting downturn in revenues would undermine development programmes and funding of domestic leagues.
"It will effectively mean the end of cricket for countries like us."